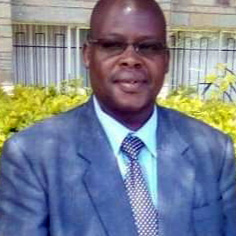 Head of Catering Department
About Catering Department
Catering is a Hospitality Department charged with responsibilities of offering essential catering services first and foremost to student, University employees, University guests and walk- in – visitors. The Department is under the Directorate University Welfare Services.
Before 1993, the department was a free food provider with cyclic menus. In 1996, the department became an Income Generating Unit and a PAY AS YOU EAT (PAYE) cafeteria system was adapted to date. A customer selects and pays for the meal before the service is done.
The Catering department comprises the following Units:
Mara Restaurant: This is the largest unit comprising of three spacious restaurants that include:
Simba Restaurant; a staff cafeteria with a sitting capacity of 500 people.
Chui and Kiboko; both are student cafeteria each with a sitting capacity of 500 students.
JF Kennedy Restaurant; is located near Mama Ngina ladies hostel with a sitting capacity of 500 people.
Tsavo Restaurant; situated at Faculty of Arts building with sitting capacity of 64 people.
Smart Cafeteria; Situated next to the new hostels and Maringo,has the sitting capacity of 100 customers.
VISION
A world Class Hospitality Entity
MISSION
To Attain World Class Standards by Rendering High Quality Catering Services to our Customers.
OBJECTIVES
To provide high quality food and efficient services to customers continuously
To increase and retain the number of customers by 2% each year.
To provide affordable meals to customers continuously.
Catering Department Units
Kitchen / Restaurant

No.

Capacity

Size M2

J.F. Kennedy

1

500

672

Mara - Simba

1

1500

3742.2

Mara- Chui /Kiboko

Guest wing restaurant

1

50

100M- For provision of Specialized-catering

Tsavo Cafereria

1

64

400-cafetereia and Lounge

Smart Cafeteria _New D/h

1

100

150M-Corridor of the new Dining hall
A. CORE ACTIVITIES
To Provide Catering Services to students, staff and University visitors.
Catering is a welfare department whose core activity is selling of meals to student, staff and visitors at affordable pocket friendly prices. Our Menus are based on popularity of dishes and raw materials availability.
B. QUALITY ASSURANCE SYSTEM - Internal Quality Assurance System
Adherence to ISO 9001: 2008 Standards –as per the Catering department procedure –EU/AF/OP/30.
Adherence to the Catering department Service Delivery Charter and the University's
Respondent to customer feedback as per the customer surveys carried by the department for example recommendation of using cooking oil instead of solid fat. The department requested procurement to procure cooking oil as recommended.
Medical Examination to be carried out for the catering staff every 6 months
Use of Cold rooms for storage of foods that require cold storage for better quality.
Ensure proper use and care of kitchen equipment to avoid any contamination.
Use of Standard recipes in food production
Use of standard service equipment in portion control i.e. ladle and serving spoons
Ensure Provision and use of protective clothing's by the staff.
Inspection of food stuff by inspection and acceptance committee and involvement of
D. MONITORING AND EVALUATION
Bench Marking –To offer excellent services by bench marking with the leading catering service providers both in the Public and Private Universities by requesting for facilitation
Monthly and Quarterly report on income, expenditure and the number of customers served is used in monitoring and evaluating the performance of each of the units.
Calibration of weighing machines is done annually to ensure food items are received as per the delivery from the supplier and are also issued for production accurately per the recipe.
Adherence to department procurement plan and other statutory obligations as per the Kenyan constitution-Chapter 6 and Chapter 10.
Customer satisfaction surveys are conducted to establish customer satisfaction levels.
E. Menu and costing
The pricing of meals is done after an experiment involving our stakeholders (students) .The experiment entails the collection and weighing of foodstuff from store, preparation, cooking and portioning. Once the portions are agreed upon, the selling prices are then determined by dividing the cost of production by the portions yield. The prices and portions and forwarded to the Welfare Committee for approval and implementation.