Egerton University collaboration with Boitekanelo College - Botswana
---
Egerton University's Faculty of Health Science, on Friday, 23 July, launched the Nutrition and Dietetics Exchange Programme in collaboration with Boitekanelo College, Botswana. The launch took place during the celebrations of Nutrition Awareness Day at the Main Campus in Njoro.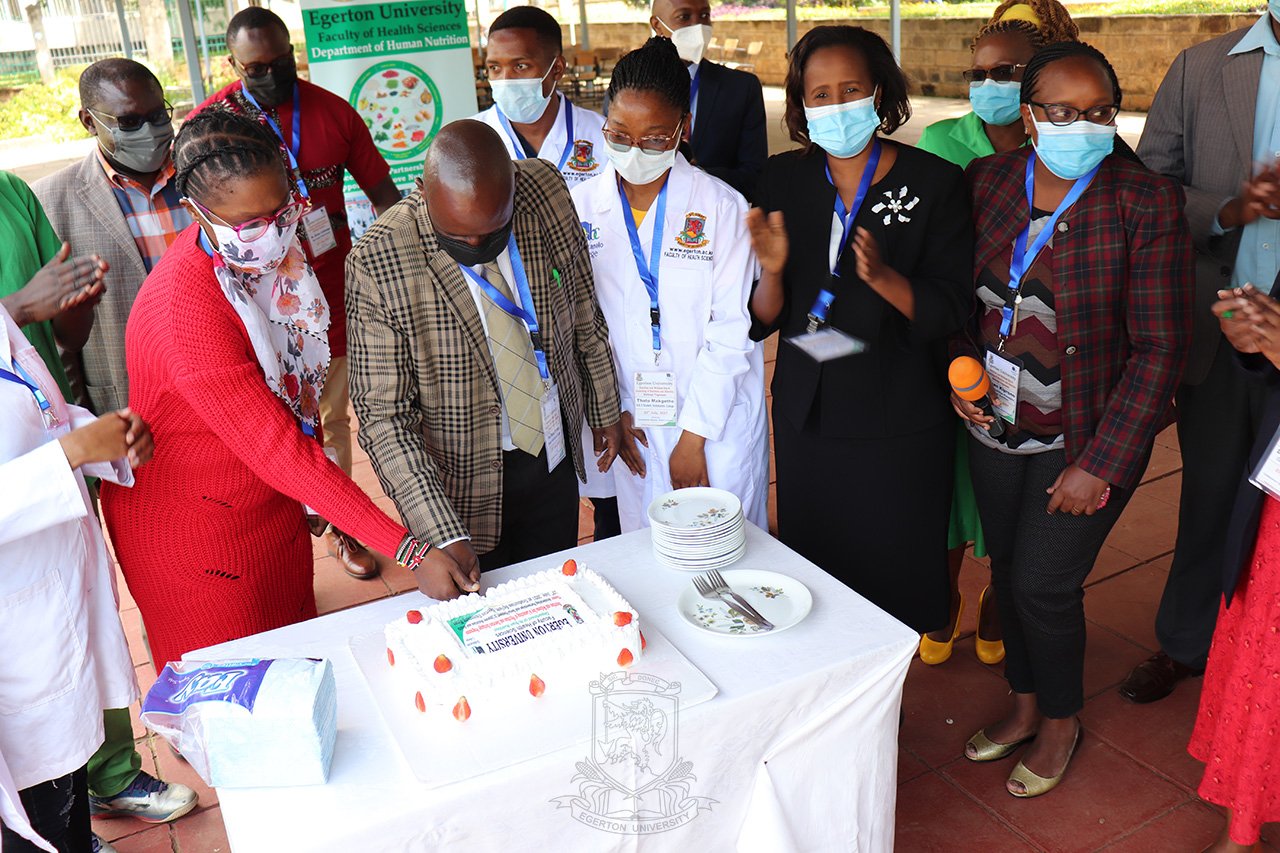 Making his remarks on behalf of the acting Vice-Chancellor Academic Affairs, the Director International Linkages and Career Services, Professor Charles M'Erimba said that the MoU between Egerton University and Boitekanelo College was signed on March 2021, paving the way for Nutrition and Dietetics Exchange Programme.
"The exchange programme will first target undergraduate students and those in the field exchange programme and involve joint supervision of the students. Through the collaboration, we can exchange scientific information needed to address food and nutrition security in Africa," said Prof. M'Erimba.
The Director of Examinations and Timetabling, Professor Gilbert Obwoyere, representing Deputy Vice-Chancellor Academic Affairs, noted the partnership with Boitekanelo College meets one of the University's strategic goal of increasing linkages and collaborations.
"This collaboration will increase Egerton University's visibility globally, articulate the role of nutrition security and contribute to overall quality health among the people. The Nutrition and Wellness Day we are celebrating today is a wake-up call to making better choices," added Prof. Obwoyere.
The Dean Faculty of Health Sciences Dr Brian Lishenga, Chair of Nutrition Department, Dr Stellamaris Muthoka, Human Nutrition Lecturer Dr Maureen Cheserek, Ms Susan Kiprono from the Department of Human Nutrition, students from the Faculty of Health Sciences and Boitekanelo College attended the launch of the exchange programme.
Alumni Relations Coordinator Dr Hillary Chakava and Communication and Marketing Manager Ms Agnes Mwangi also attended the event on behalf of the Directorate of Marketing and Resource Mobilization. Dr Lilian Nyagaya represented the Office of the Dean of Students.
The Nutrition and Dietetics Exchange Programme has attracted 16 students who are placed at different hospitals in the country. These hospitals are the Coast General Teaching & Referral Hospital (5 students), Kenyatta National Hospital (3 students), Kenyatta University Teaching and Referral Hospital (3 students), and Nakuru Level 6 Hospital ( 5 students). The students will rotate in all these hospitals after every four weeks.
---