Egerton University gets New Chairman of the Integrity Promotion Committee
---
The Vice-Chancellor of Egerton University appointed Professor Ali Salim Islam as the Chairman of the Integrity Promotion Committee (IPC) effective 23 March 2022 for a period of three years. Prof. Salim is an Associate Professor of Statistics in the Department of Mathematics at the Faculty of Science.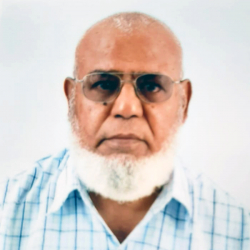 Prof. Salim's career at Egerton University started in 1995 as a Lecturer in the Department of Mathematics and has since risen through the ranks to Associate Professor. His responsibilities in the Department include supervision of Masters and PhD students, undertaking research, students' academic advisor and curriculum development.
Prof. Salim has published twenty-three (23) journal papers and has supervised nineteen (19) Masters students with the ongoing supervision of four (4) students and two (2) PhD students with the ongoing supervision of two (2) students.
His roles as the Chairman of IPC include acting as the Egerton University Ombudsman, keeping a constant check on the operations and procedures of the University and ensuring that there are no opportunities for corruption, ensuring all corruption prevention initiatives are integrated into the University, coordinating corruption prevention strategies and monitoring the impact of corruption prevention initiatives among other roles.
The University Council, Vice-Chancellor, University Management Board, staff and students wish Prof Ali Salim Islam every success in his new position.
Other appointments:
22 March, 2022
Faculty of Engineering and Technology
Department of Agricultural Engineering,
Acting Chair of Department, Dr Samuel Nyakach
10 March, 2022
Confucius Institute,
Re-appointment of Director, Prof. Joshua Ogweno
2 March, 2022
Faculty of Health Sciences
Department of Human Pathology
Re-appointment of Chair of Department, Dr Stephen Muthui
24 February, 2022
Faculty of Engineering and Technology
Acting Dean, Dr Raphael Wambua
10 February, 2022
Faculty of Engineering and Technology
Department of Industrial & Energy Engineering
Acting Chair of Department, Eng. Vincent Odhiambo
5 January, 2022
Faculty of Environment and Resources Development
Department of Environmental Sciences
Acting Chair of Department, Dr Oscar Donde
---