Ajira Club Launched at Egerton University
---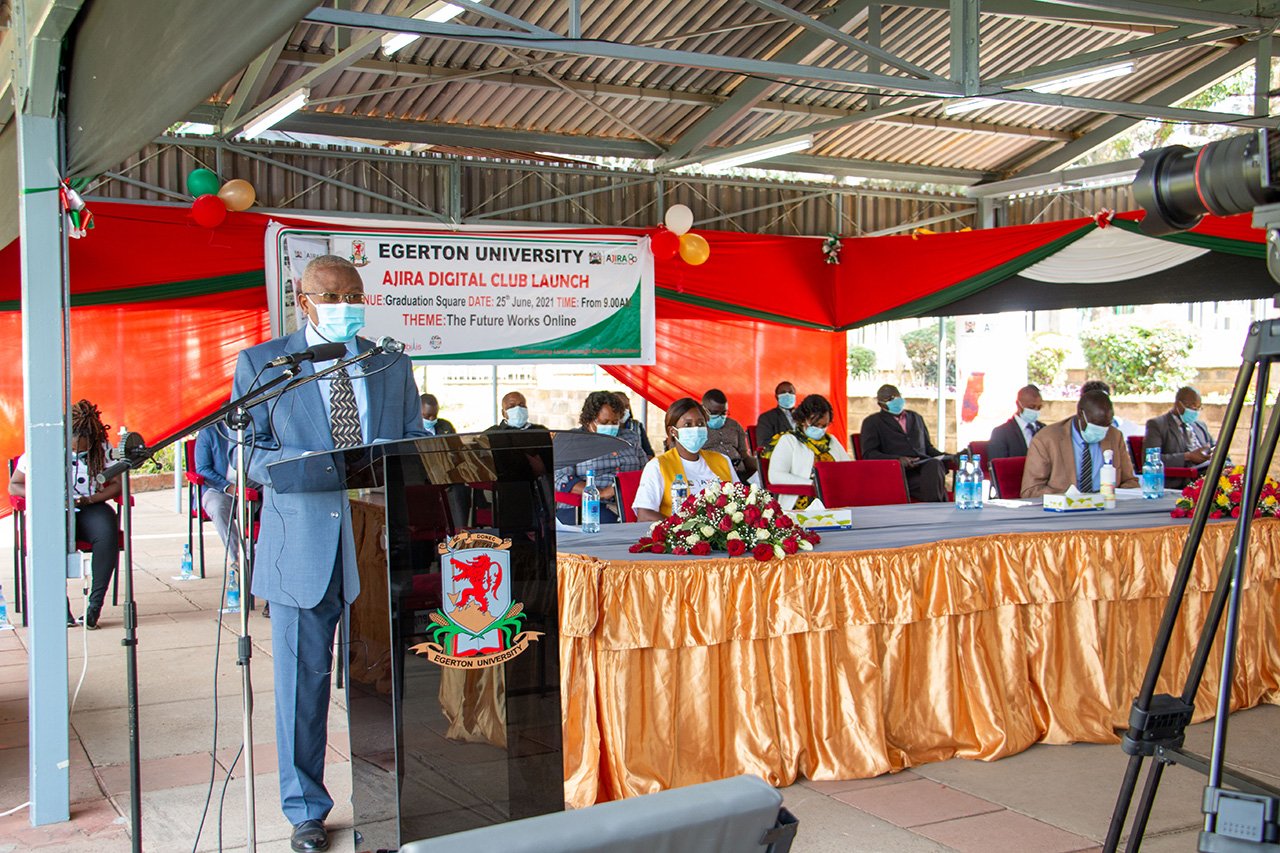 The Chief Administrative Secretary, Ministry of Ministry of ICT, Innovation and Youth Affairs, Ms Maureen Mbaka, on Friday 25 June 2021, launched the Egerton University Ajira Digital Club, an initiative of the Ajira Digital Program. The launch took place at Main Campus in Njoro.
During the event, CAS Mbaka said that since 2016 the Ajira Digital Program has empowered thousands of youths across the country with employable skills that have enabled them to leverage and take advantage of the numerous digital job opportunities available.
"As we speak today, the country prides itself of slightly over one million digital workforce, which is highly attributed to the efforts put forth by my Ministry through the Ajira Program," said CAS Mbaka.
"It is indeed a great pleasure to note that this University, having been among the first universities to have their students benefit from the program, has kept the fire burning in steering Ajira Digital Program activities within the campus. It is owing to your continuous and determined efforts that today we are gathered here to witness this Club launch," added the CAS.
Egerton University's acting Vice-Chancellor, Professor Isaac Kibwage, noted that the Ajira Club will enable conditions within which students making their way through institutions of higher learning will acquire the practical skills they need for them to respond accordingly to the challenges of the Digital Age.
"If handled properly, the Club can help our students build upon the theoretical concepts they are acquiring from within their classrooms to become truly independent citizens and workers. Among other things, they will be able to create avenues for self-employment, job creation, and, in general, for the positive transformation of society as a whole," said Prof. Kibwage.
Ajira Digital Clubs initiative, a project by the Government of Kenya, focuses on creating an environment for work generation and skills development to meet the demand and supply side on job creation in all higher learning institutions in Kenya.
At Egerton University, the Dean of Students' Office in collaboration with Faculty of Science (Computer Science Department), incubates the Ajira Club.
Read more about the club at euajira.egerton.ac.ke.
---