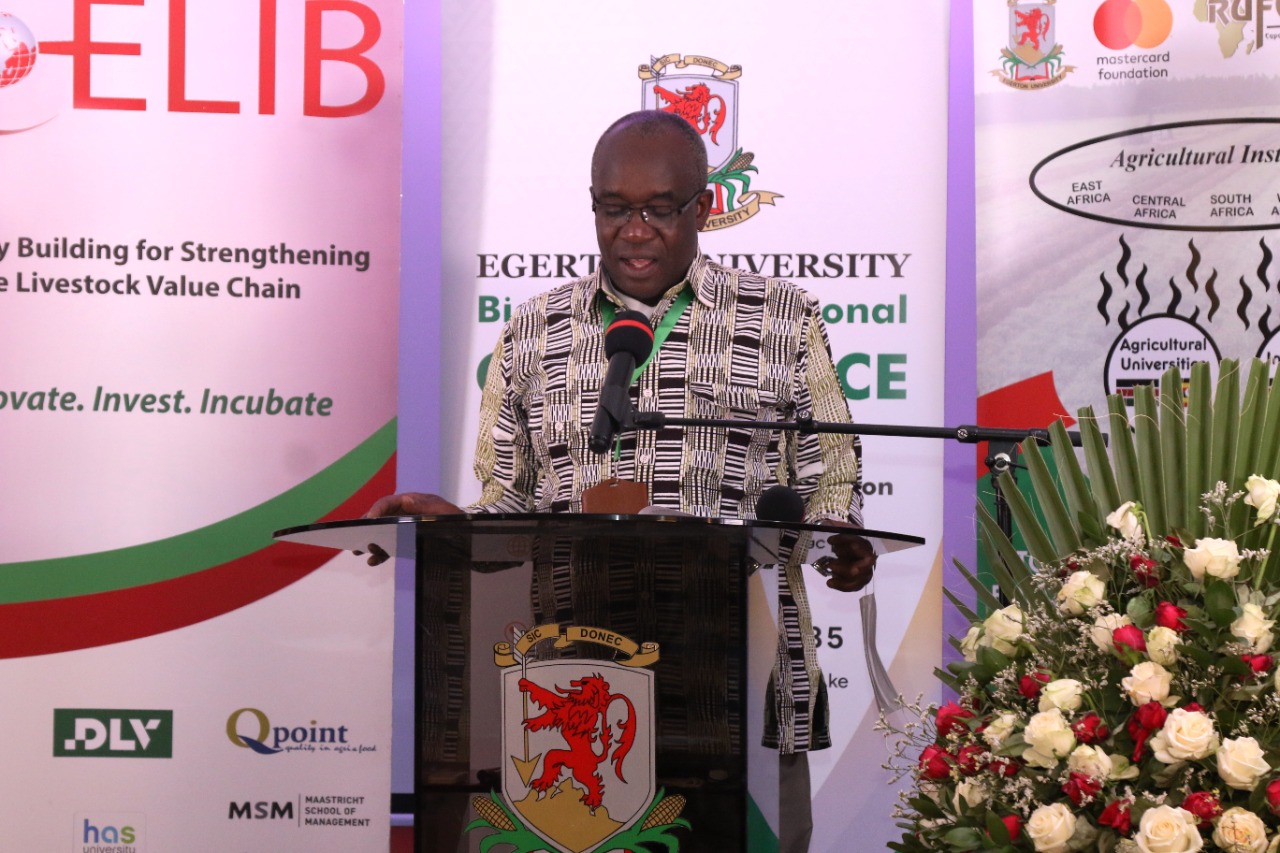 CLOSING ADDRESS TO THE 14TH BIENNIAL INTERNATIONAL CONFERENCE 'VIRTUAL'
---
Salutations
The Chairman, Egerton University Council – Amb. Dr. Luka H. Wario
Vice-Chancellor, Egerton University – Prof. Isaac O. Kibwage
Deputy Vice Chancellors – Prof. Richard M. Mulwa (AP & D) and Prof. Bockline O. Bebe (R & E)
Keynote and Invited Speakers – Dr. Tonny K. Omwansa, Prof. Isaiah I.C. Wakindiki, Prof. Josephat Matasyoh, Prof. Lize Kriel, and Ms. Jane W. Muriu
Presenters – oral, and posters
Sponsors
Participants, Students, Researchers, Staff
Invited Guests
Conference Organizing Committee Members
Ladies and Gentlemen,
Good afternoon.
I am honored to play this role of speaking at the closing ceremony of the Egerton University 14th Biennial International Conference 'Virtual' whose theme is "Research and Innovation for Resilience in a Changing Environment".
The well attended three-day conference attracted quality research papers and posters. The keynote, invited speakers, and researchers respectively gave insightful presentations. On behalf of the University, I want to appreciate your attendance and participation.
The Division of Research and Extension, and the Conference Organizing Committee have done a sterling job and made us proud. We dearly value you.
In the same vein, the University recognizes with gratitude the sponsorship/ support offered by NRF, CORTEVA, Agriscience, TAGDEV, CESAM, and the Director CoELIB for the space and ICT resources that served as the nerve center for the Conference.
The sub-themes covered were:
Transformative Agri Food Systems – which addressed the Agribusiness Management/Agricultural Economics;
Health Systems, Science and Technology – which addressed Health and Nutrition;
Health Systems, Science and Technology – which focused on Physical Science, Engineering and Technology;
Bio-sciences;
Innovations in Climate Change and Natural Resource Management – which covered topics in Environment and Agriculture, Environment and Technology, Climate Change;
Literature, History and Culture – through which issues of resilience, communicating topical matters such as climate change, etc. were covered;
Transformative Education for Social-economic Adaptability;
Entrepreneurship, Business and Trade;
Resilience and Ruptures in Governance and Geopolitics in Africa.
I laud the organizers of the Conference for being inclusive in the themes covered. For, example, technologies and innovations fail when cultural attributes in specific markets/areas are not taken into account even at the design or launch stages. The diverse and rich topics/results/ideas presented in this conference, we anticipate, should have impact on the participants and society at large as this would be line with University's motto of 'Transforming Lives through Quality Education'.
The feedback on the Conference you shared with us is appreciated and will definitely be useful when we plan the next biennial conference.
The last three conference days, I believe, were intensive but enjoyable. You deserve a well-earned rest, and I grant it but with the following exhortations given that Innovation and Changing Environment were key words in the theme of this Conference:
Somebody wrote that "most innovations, in particular successful ones, result from conscious, purposeful search for innovation opportunities" such as unexpected occurrences, incongruities, process needs, industry and market changes, demographic changes, changes in perception, or new knowledge. Thus "purposeful, systematic innovation begins with analysis of the sources of new opportunities".
Thank you very much once more for honoring us with your participation in this 2022 Biennial Conference.
PROFESSOR BERNARD O. ADUDA
DVC – ACADEMIC AFFAIRS
---