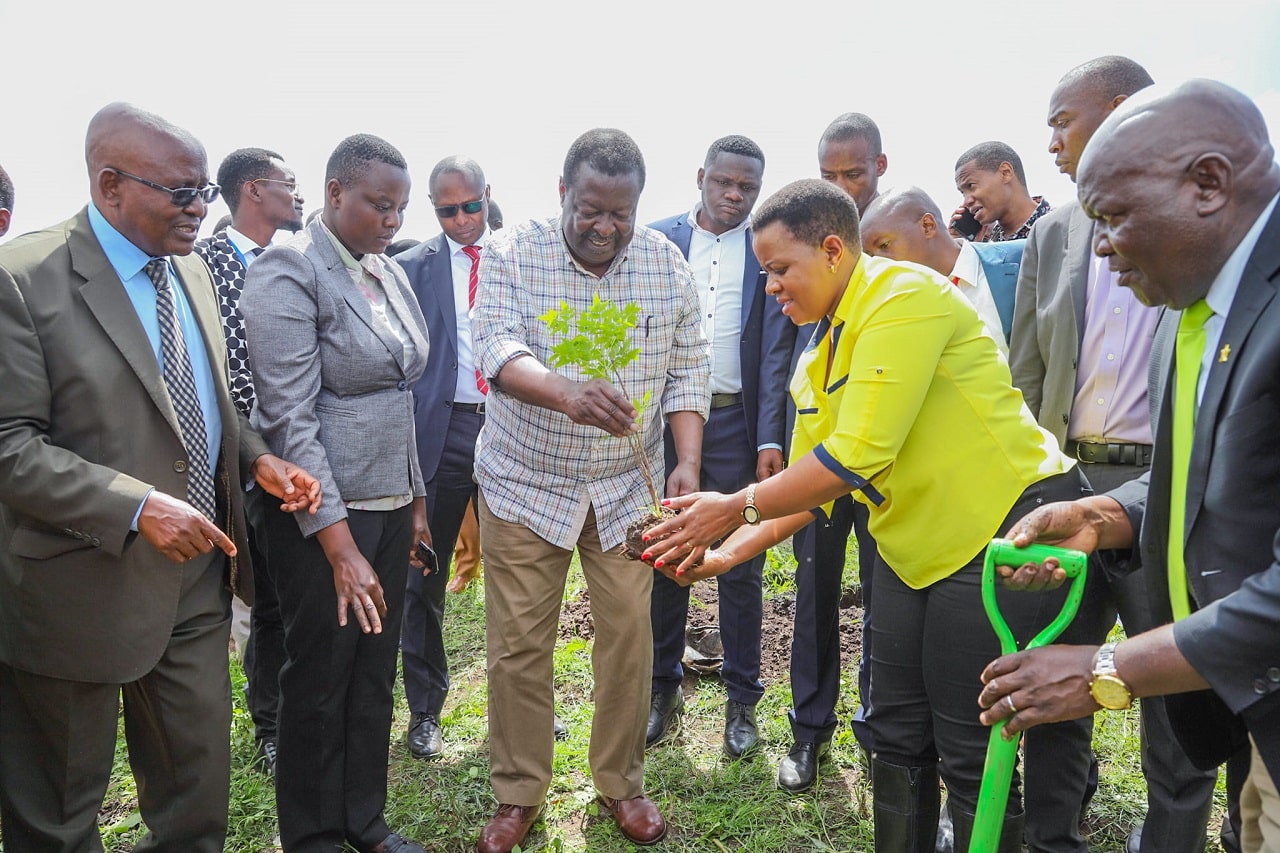 Prime CS Musalia Mudavadi Launches Egerton University's 'Adopt a Forest' Initiative to Support Presidential Tree Planting Campaign.
---
Prime Cabinet Secretary Musalia Mudavadi led the launch of Egerton University's 'Adopt a Forest' initiative, which is part of the Presidential initiative to grow a 15 billion tree cover by 2030. He commended the university for its innovative approach and participated in a tree planting exercise at Egerton University in Njoro, Nakuru County.
Hon. Musalia was joined by the University Vice Chancellor Professor Isaac Kibwage, Nakuru Deputy Governor Hon. Dr David Kones, Njoro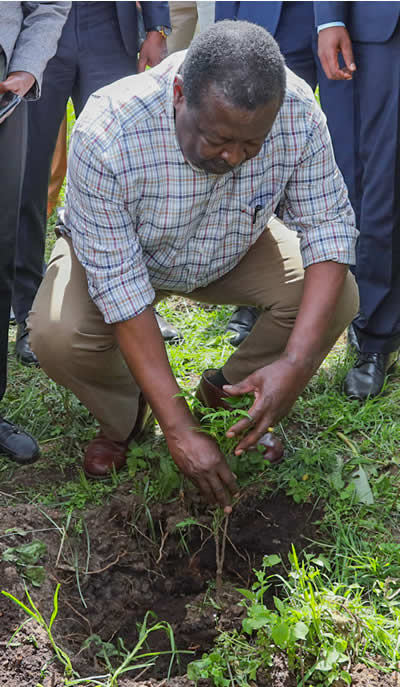 Constituency Member of parliament Charity Kathambi, PS State Department for Basic Education Dr Richard Belio Kipsang, PS Aurelia Rono - PS Parliamentary Affairs, Area Member of County Assembly in the Adopt a Forest program, which has garnered support from partners such as Kenya Commercial Bank (KCB) Group, Defense University of Kenya, Co-operative Bank, KALRO, Kenya Forest Service (KFS), PELT Security Services, and others. The initiative followed a successful cross-country event called 'Run for The Mau' held on February 25 earlier this year.
Speaking at Egerton University, Njoro campus in Nakuru County, Hon. Musalia emphasized the importance of embracing the initiative due to the far-reaching effects of global warming. He highlighted that climate change poses a threat not only to human life but also to animals, other living organisms, and food security. He clarified that the tree planting exercise at the university was not encroachment on land but rather the utilization of university-owned land to mitigate the effects of climate change. He encouraged other institutions with available land to emulate this model.
"This will aid in the efforts to reduce greenhouse emissions, reverse deforestation and eliminate adverse climate change effects that are now a global threat to human life," he said.
The Prime Cabinet Secretary acknowledged Egerton University as a strategic government institution that has contributed innovative solutions and research to address various food security challenges. He recognized the university's management as a key partner in achieving the country's desired forest cover. He believed that such collaborations serve as a catalyst for encouraging Kenyans to support the government's initiatives.
Mudavadi also addressed the issue of stalled university projects worth over 2 billion Kenyan Shillings dating back 30 years. He assured that the government, in collaboration with the Ministry of Education, would work to address these challenges. He expressed his office's commitment to increasing engagement with the university to ensure continued support for such initiatives.
Since the beginning of the year, more than 20,000 trees have been planted as part of the initiative. The Prime Cabinet Secretary's office alone planted 10,000 seedlings on a 5-acre parcel of land allocated by the university. Prior to the visit of the Prime CS, staff from his office, including Principal Secretary Aurelia Rono and Communications advisor Prof. Kibisu Kabatesi, adopted an acre of forest at the university. Hon. Mudavadi urged Kenyans to plant at least one tree on June 1, in commemoration of the country's self-internal rule.
Mudavadi stated, "If every one of the 40 million Kenyans plants one or two trees during this year's Madaraka Day, we will hit the 60 million mark in a day. This will go hand in hand with us celebrating the 60 years since when we attained independence." The CS also led in issuing about 3000 seedlings to the community members who had attended the event function at Beeston area of Egerton.
Addressing the government's target of planting at least 15 billion trees by 2032, the Prime CS emphasized that achieving this goal would require concerted efforts from the government, stakeholders, and citizens. He further stated, "Under the Ministry of Environment, Climate Change, and Forestry, we are targeting every Kenyan to plant at least 300 trees in the next 10 years, which reflects planting at least 30 trees annually for us to achieve our target by 2032."
The event was made possible by support of Run for the Mau University Committee led by its Chairman the Deputy Vice Chancellor Academic Affairs Professor Bernard Aduda, Deputy Vice Chancellor Administration, Planning and Development Professor Richard Mulwa, Directorate of Marketing and Resource Mobilization led by Professor Paul Kiprotich Kimurto. Also key is the office of the regional commissioner, County commissioner and security agencies.
Written by:
By Kurian Musa
Communications Officer
Directorate of Marketing and Resource Mobilization
Email: This email address is being protected from spambots. You need JavaScript enabled to view it. /This email address is being protected from spambots. You need JavaScript enabled to view it.
---