Estates Department making strides towards becoming an Income Generating Unit (IGU)
---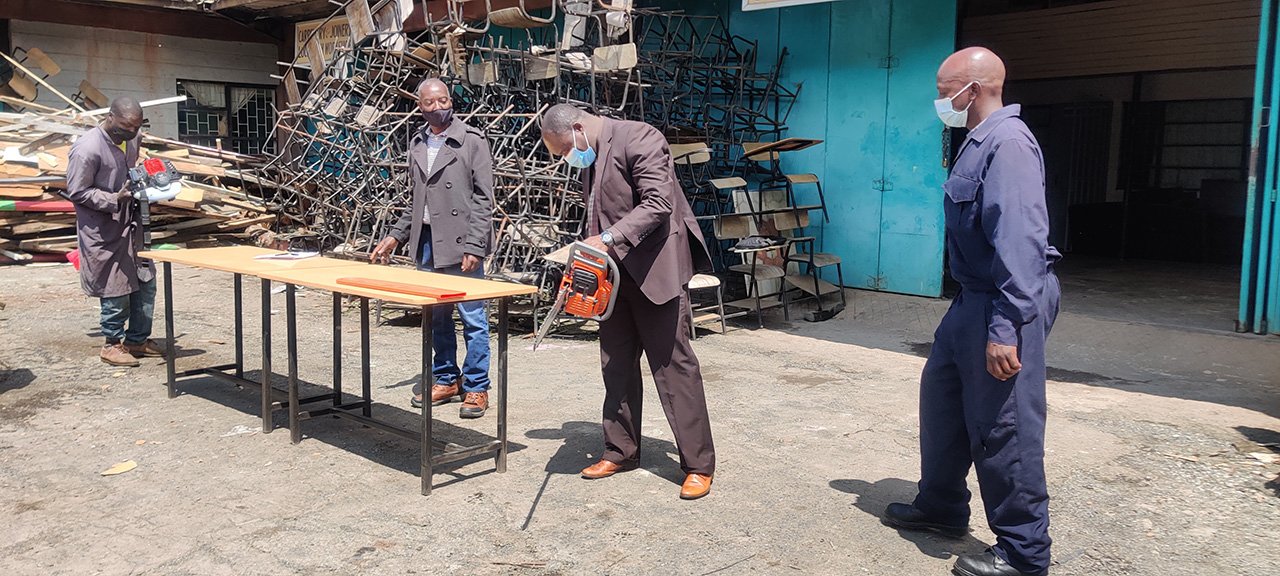 Ag. DVC APD Prof. Richard Mulwa commissions the power saw and brush cutter at Main Campus in Njoro on 12 July, 2021
Egerton University's Estates Department is on course to become a semi-autonomous Income Generating Unit. Since January 2021, the Estates Department, through acting Estates Manager Mr Kepha Orina has earned considerable income through the extensive sale of firewood to outside organisations.
The department used some of the income generated to purchase maintenance equipment commissioned by the acting Deputy Vice-Chancellor Administration Planning & Development (DVC APD), Professor Richard Mulwa.
During the equipment commissioning, Prof. Mulwa noted the importance of departments in the University to find ways to generate income and save in finances by using the available resources. He said that purchasing the equipment comprising a power saw and a brush cutter was a first step after a long period of low inactivity to make the Estates Department a self-sustaining IGU. The department is also involved in making improvements within Main Campus. These include enhanced lighting systems, maintenance and rehabilitation of students' hostels.
The commissioning of the equipment was held at Main Campus in Njoro on 12th July 2021.
Objectives of Estates Department are:
Maintain grounds in a neat state
Facilitate training of staff to acquire more knowledge on both preventive and corrective maintenance
Partnership with other University departments
Engage in priority areas in corrective maintenance
Engage in activities that will conserve the environment through tree planting and harvesting the overgrown trees for timber and firewood.
Improve the quality of the existing physical facilities and enhance the aesthetic appeal of the University by redecorating buildings
Improve on a semi-autonomous Income Generating Unit (IGU) through several activities in Estates Department
---