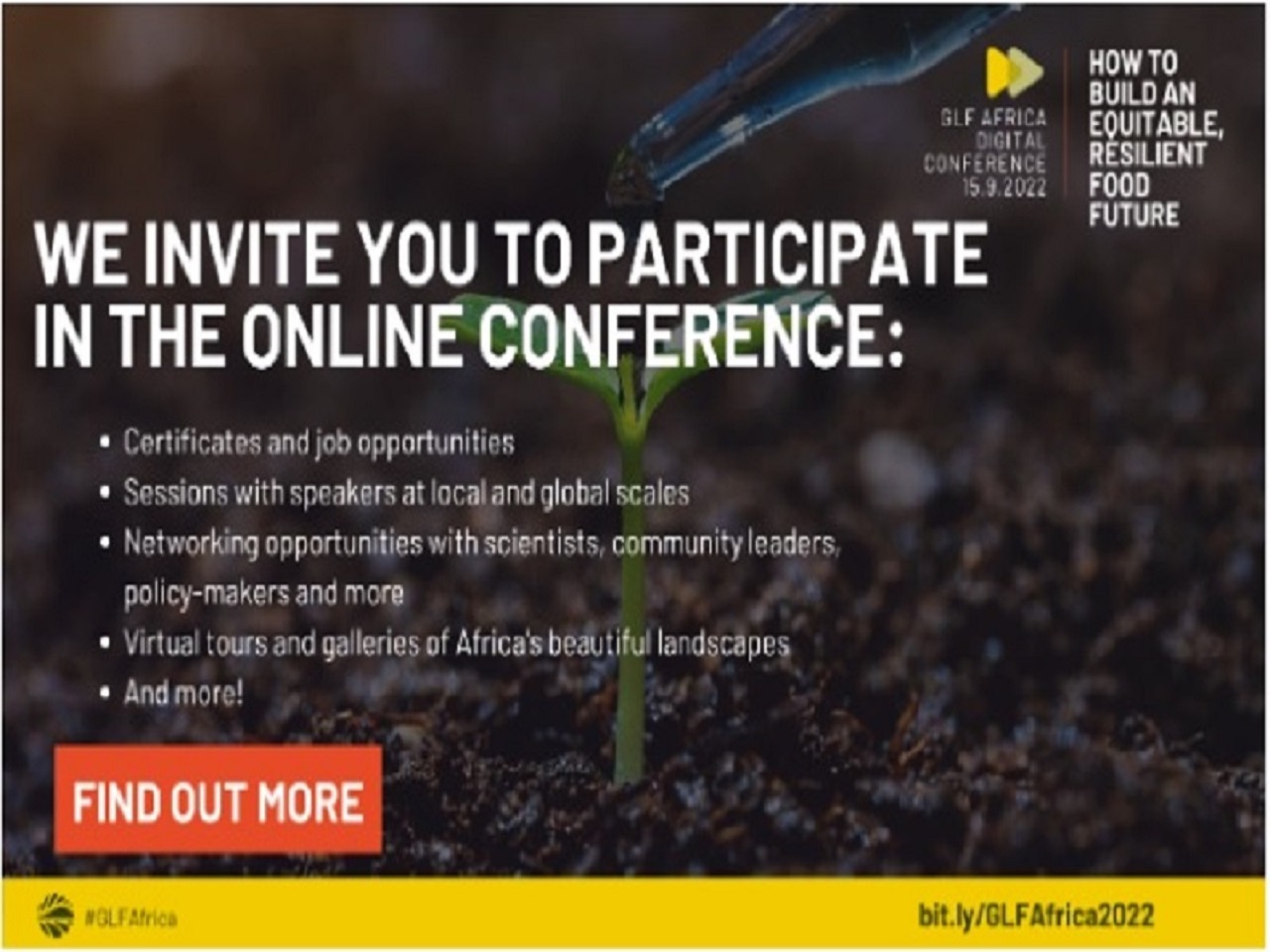 Invitation: Participate in the GLF Africa 2022 Digital Conference
---
On behalf of the Global Landscapes Forum (GLF), we would like to cordially invite students, faculty and staff to participate in the upcoming GLF Africa 2022 Digital Conference on 15 September.GLF Africa 2022 will be a one-day online conference gathering thousands of participants from across the globe to explore how Africa can build an equitable and resilient food future through three key avenues: resilient landscapes, sustainable finance, and landscape rights.
Registration is free for residents of all African countries via this link, and we will provide certificates of attendance to all participants.
Ahead of the conference, the GLF, Youth in Landscapes Initiative and partners will host a virtual job fair on 14 September at 17:00 EAT (UTC+3) to connect employers in sustainability-related fields with top talent from across Africa, with a focus on students, entry-level and mid-career professionals.
We expect students from more than 100 countries to attend the event, which offers a unique opportunity for them to experience an international event, hear from experts on a range of environmental and sustainable development topics, and connect with other students worldwide.
Lastly, we would be delighted to explore avenues for collaboration. If you are interested or have any questions, please contact Christine Wangalachi at This email address is being protected from spambots. You need JavaScript enabled to view it..
The GLF, founded by the World Bank, the UN Environment Programme, the Center for International Forestry Research (CIFOR), with 34 of the world's leading development and environmental organizations serving as Charter Members, is the world's largest knowledge-led forum on sustainable land use, dedicated to achieving the Sustainable Development Goals by 2030 and the Paris Climate Agreement. Through global and regional events, learning and training activities, we have connected more than 7,500 organizations, 60,000 youth, 110 Governments and 300,000 participants from over 185 countries, while reaching 1.5 billion people through social and traditional media.
Click the link below to Register.
---