University Council Members Plant Trees to Conserve Mau Ecosystem and Protect Vital River and National Park
---
Council Members of Egerton University gathered on Friday to participate in the greening efforts of the University and the larger conservation initiative of the Mau Ecosystem. This ecosystem is home to the Njoro River, one of the rivers that pass through the University, and drains its water in Lake Nakuru, a world-famous national park. The park is home to two types of flamingos, making it a vital ecosystem to protect.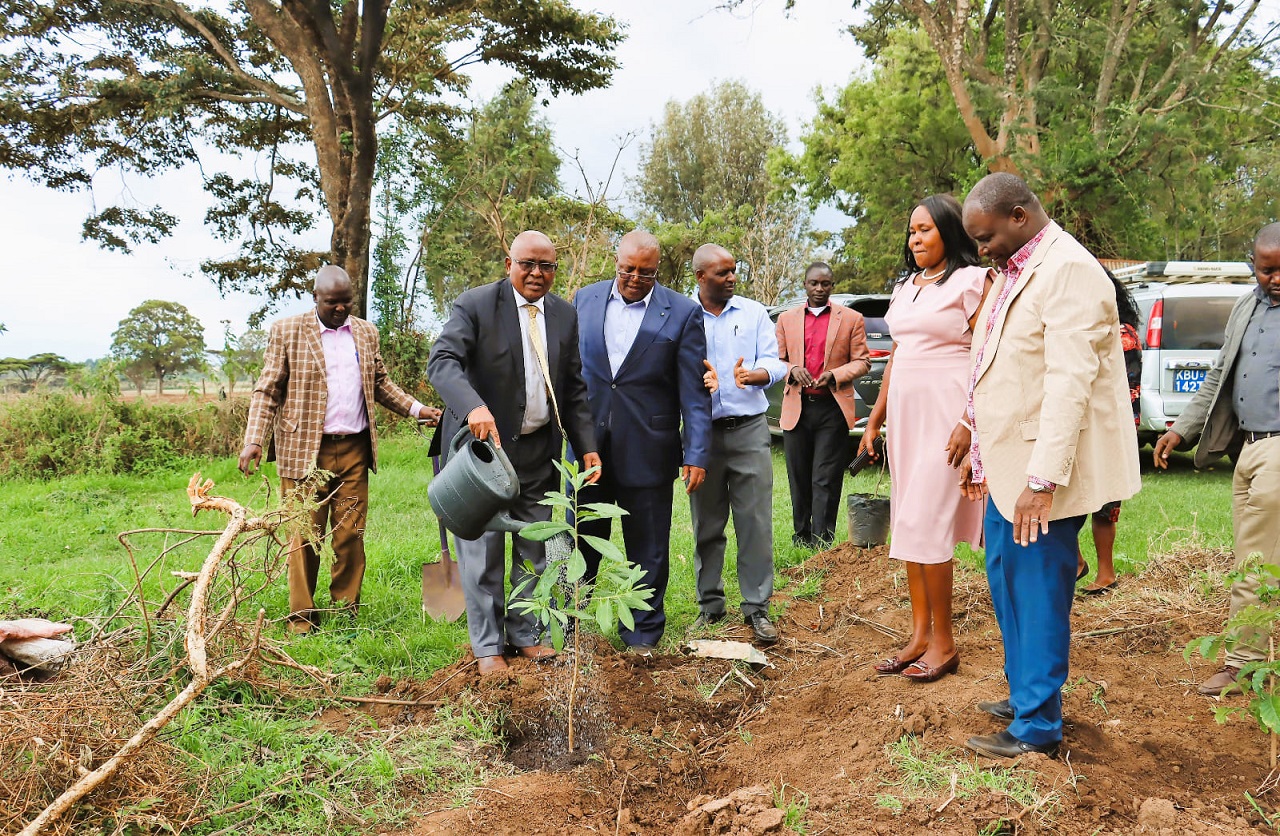 Vice Chancellor Professor Isaac Kibwage led the Council Members, including Mr Julius K. Mutua, Ms Esther Wabuge, and Dr John N. Ondari, to plant trees at the University Farm. The Deputy Vice-Chancellor Administration Planning and Development showed the visitors the efforts of planting thousands of trees through a Shamba system.
Professor Charles Merimba, the Njoro River Project Director and a don at Egerton University, explained that conservation efforts are not easy. Planting trees is one aspect, but caring for them until they grow up is the main challenge that requires resources for watering and security, among other requirements.
Realigned with Presidential Initiative
Vice Chancellor Professor Kibwage emphasized the importance of this initiative to keep the water towers safe and the environment unpolluted. He stated that the University began this process a long time ago and is now working in a realigned way with the President's Initiative to have 15 billion trees in the country.
He also explained the University's innovations in using biodegradable paper to plant trees. This has been developed in the University, and the Innovator Joseph Nguthiru was recently identified as the 2023 Obama Foundation leader from Kenya for the outstanding work.
The Council Members expressed their satisfaction with the progress being made in the conservation efforts. They urged the community to participate in the greening efforts, emphasizing that it is the responsibility of all to conserve the environment.
The Mau Forest complex is an important ecosystem that provides essential services to the surrounding communities, such as water for domestic and agricultural use, wildlife habitat, and climate regulation. However, it has been threatened by human activities like illegal logging, charcoal burning, and settlement.
Sustainable future
The University's efforts to conserve the Mau Ecosystem and plant trees will go a long way in protecting the environment and ensuring that the ecosystem's services are maintained for future generations. The Council Members hope that their actions will inspire others to join in the conservation efforts and create a sustainable future for all.
This reveals the university's commitment to protecting the Mau Ecosystem through various initiatives like the annual "Run For the Mau" event, planting trees, and using biodegradable paper to plant trees. The Council Members and the community at large are encouraged to participate in the greening efforts and make a positive impact on the environment.
By Kurian Musa
Email: This email address is being protected from spambots. You need JavaScript enabled to view it.
Directorate of Marketing and Resource Mobilization.
---