University's Measures To Strengthen Relations Between Industry And Academia Manifests During Kenya Innovation Week.
---
The University has put up measures to strengthen the framework to support innovations and also boost relations between academia and industry so that it can grow Income Generating Units through partnerships and collaborations.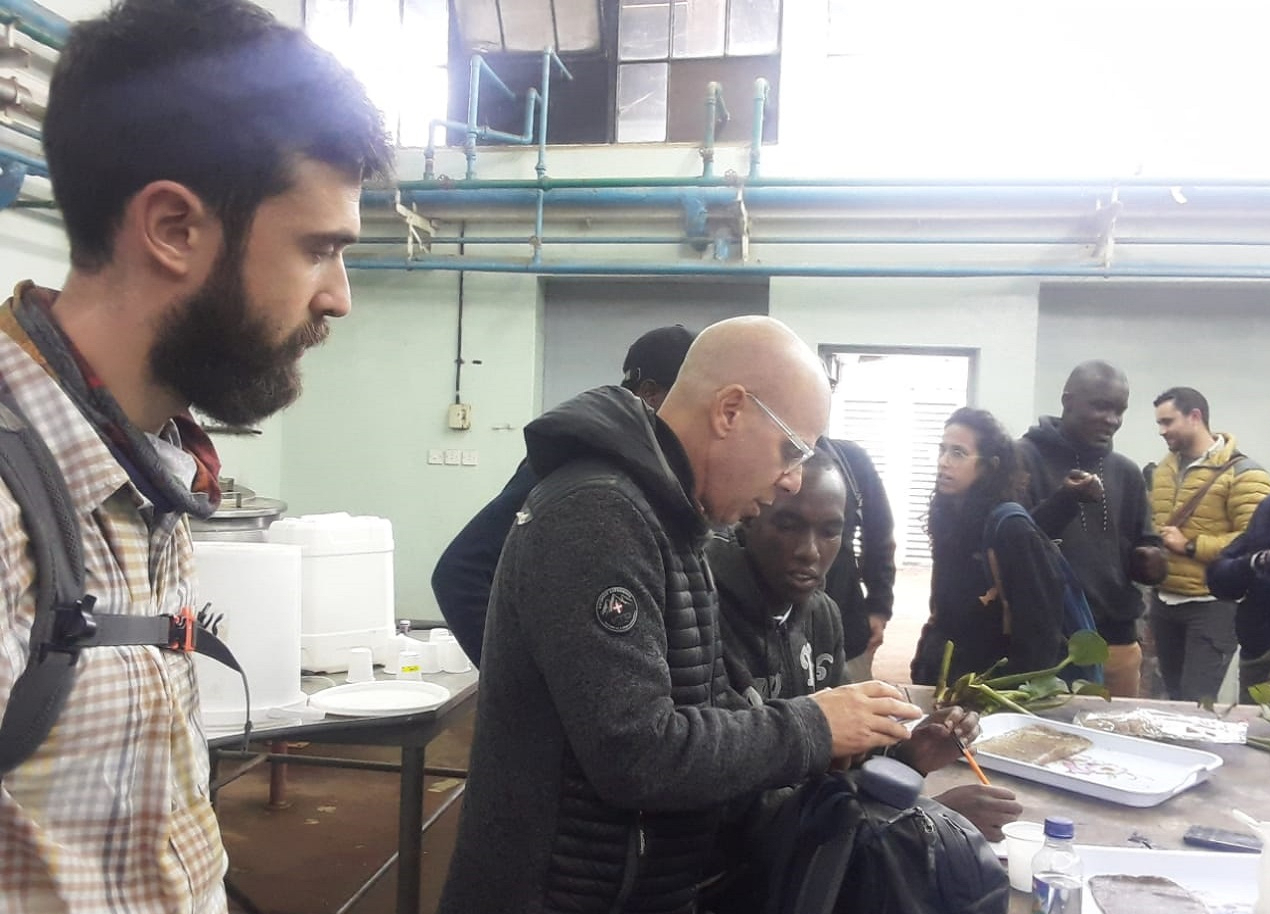 Visiting Students and Faculty of Technion University of Israel being introduced to Egerton University's innovation Hypak Processing.
The measures manifested explicitly at the Kenya Innovation Week (KIW) as Egerton University exhibited various seed varieties produced at the Agro-science park. The seeds are courtesy of research activities to produce high-yielding, drought and disease-resistant crop varieties to Kenyan climatic conditions.
Agro-Science Park Agricultural Innovations
Led by Crops expert Professor Paul Kimurto who is the Director Agro-Science Park as well as the Director for Marketing and Resource Mobilization, the University has adopted ways to showcase agricultural innovations in the University. Among the seeds varieties most sought were; Chelalang' Beans which got sold out. Those who visited the Egerton University booth requested for more seeds to be availed in their regions.
"We are working with farmers whom we guide through our extension services to produce quality seeds that can serve the regions in the country," said Prof. Kimurto.
At the Sarit Centre event. The Kenya Innovation week enabled the University to display its market-driven academic programmes. The University currently has over fifty-one (52) academic departments that offer a wide range of programmes at the diploma, undergraduate, and postgraduate levels.
More than 5000 courses on offer
The departments are spread over 10 faculties namely Agriculture, Arts and Social Sciences, Commerce, Education and Community Studies, Engineering and Technology, Environment and Resources Development, Health Sciences, Science, Law and Veterinary Medicine and Surgery. Additional courses are offered by the Institute of Women, Gender and Development Studies and College of Open and Distance Learning. we have over 215 academic programmes with more than 5000 courses.
Water Hyacinth Leaves Innovation from the Faculty of Engineering
Through the Dean Faculty of Engineering Onyango Japheth Onyando, the university produced the best manufacturing at the Innovation Week. The start-up dubbed HyaPak, an innovation project on biodegradable paper using leaves of the water hyacinth weed from the Engineering department by Joseph Nguthiru, 24, started as a final year task.
Though the project is just past the prototype stage, the Innovation attracted investors and various stakeholders in the Kenya Innovation Week who came to seek a possible partnership with the University to set up a factory for mass production.
Alumni of Egerton University at the Innovation Week
During introductions in conferences or workshops, it is always refreshing to get at least 3 out of 10 people are alumni of Egerton University. Kenya Innovation Week was not an exception. Some of the alumni who registered also sought to come back for Master's and PhD levels of academic studies.
Start-Up Summit
It emerged that there is a need to explore Public-Private Partnerships (PPP). The Public-Private Partnerships Act on local content, 'Buy Kenya Build Kenya,' need to be unpacked to boost the economy. The PPP regulation framework enables the Private Sector to harness innovations and create jobs.
Universities were encouraged to explore more ways to enhance Public-Private Partnerships to enable them to create more jobs and share knowledge and best-tested practices. This, experts in the start-up summit said, enables the learning institutions to also innovate the courses and curricula they offer to be market driven.
Commercialization Summit
At the commercialization Summit, the role of Universities in the dissemination of education versus the role of Universities venturing into entrepreneurship was discussed. Students should be able to take an entrepreneurship course or Unit as well as a Communication Skills Unit before they graduate.
Egerton University's Dr Dickson Okello expressed that there is a challenge to Universities doing their core mandate of dissemination of education when they are required to venture into entrepreneurship. He explained that the University has various Income Generating Units (IGU's) which are also headed by members of the teaching staff.
Dr Okello said there is a responsibility for the University to do research and get another platform to commercialize the research findings. In developing countries, he said, universities seek MOUs with an industry player to commercialize the research findings to develop products to make profits.
"These are models of partnerships between academia and industry that we are making steps in pursuing," said Dr Okello.
Start-ups may also consider Crowdfunding a way to raise working capital.
In a past courtesy call to the Vice-Chancellor Prof. Isaac Kibwage at the Main Campus in Njoro, the Kenya National Innovation Agency (KeNIA) led by their Chief Executive Officer Dr Tonny Omwansa said Institutions of higher learning are core of KeNIA's work. To engage individual universities such as Egerton and research centers to deeply understand the commercialization capabilities, systems and processes within their institutions."
"Through the Institutional Commercialization Support Program, we picked universities because their research focus is on innovations and commercialization. In light of this, our aim to link their research outputs/centers to investors to promote commercialization," added Dr Omwansa.
The Vice-Chancellor Prof. Kibwage in his remarks said that the University was open to sharing ideas in innovations and commercialization adding that the Division of Research and Extension is the focal point for sharing knowledge on innovations and commercialization. Prof. Kibwage added that the University has an Intellectual Property policy that addresses issues on commercializing innovations and making them available to the public.
Contact: This email address is being protected from spambots. You need JavaScript enabled to view it.
---