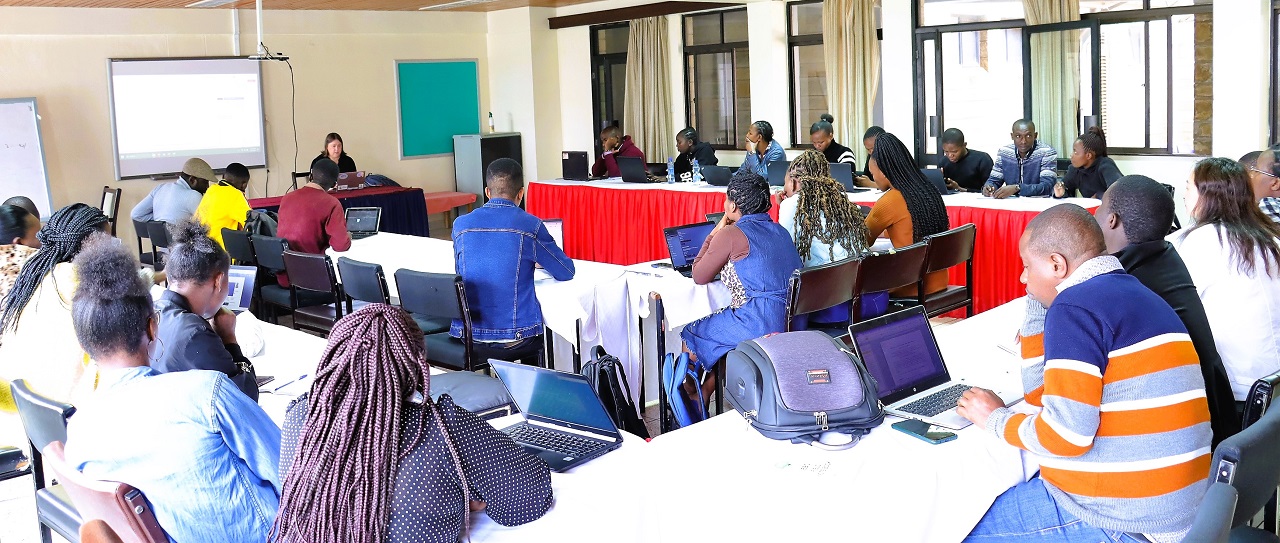 Training on Meta-Analysis Techniques held at Egerton University
---
Njoro-Kenya: April 5, 2023
Egerton University's Research and Extension Directorate recently conducted a training program for its researchers and postgraduate students on how to carry out a meta-analysis. The training, which covered the entire process of conducting a meta-analysis, was led by Dr. Lisa Tiemann, a visiting professor from Michigan State University, USA.
The program on meta-analysis is a valuable initiative aimed at equipping researchers with the necessary skills to conduct high-quality research. With these skills, the participants will be able to produce research papers that are based on sound scientific principles and are of high quality.
Training began with a discussion on the definition of meta-analysis compared to a systematic review. The participants were then shown the benefits of conducting a meta-analysis. Dr. Tiemann then proceeded to induct the participants on how to formulate a meta-analysis answerable research question using the P.I.C.O. research question formulation tool. This tool helps researchers structure their inquiry by outlining the four key components of the research question: the Problem, the Intervention, the Comparison, and the Outcome(s).
Participants were then guided on how to create minimum standards and data sets that determine inclusion and exclusion criteria for studies. This includes selecting search terms and performing literature searches. The training also covered methods for data extraction, including setting up and using a Google Form.
Then, the participants were trained on assessing the risk of bias across studies included in a meta-analysis, using quantitative bias assessment methods. Dr. Tiemann demonstrated how to analyze data and perform a full meta-analysis using the open-source software OpenMEE. This involved calculating response ratios and then conducting a meta-analysis on the response ratios across all data and using sub-groups. The participants were also shown how to graph meta-analysis data in Excel in a format that would be acceptable for publication.
The program was designed to equip the researchers and students at Egerton University with the necessary skills to carry out a meta-analysis. This is a valuable tool for conducting desktop research as it helps to synthesize and interpret results from multiple studies. The ability to conduct a meta-analysis is particularly useful in fields such as Agriculture, Medicine, Environmental Science, Engineering, and many other disciplines where multiple studies are often conducted on the same topic.
This training program was well-received by the participants, who expressed their gratitude to Dr. Tiemann and the Research and Extension Directorate for organizing the workshop. The participants noted that the training would be of great help in their research work and would enable them to produce high-quality research papers.
By Kurian Musa/DMRM
Email: This email address is being protected from spambots. You need JavaScript enabled to view it.
---