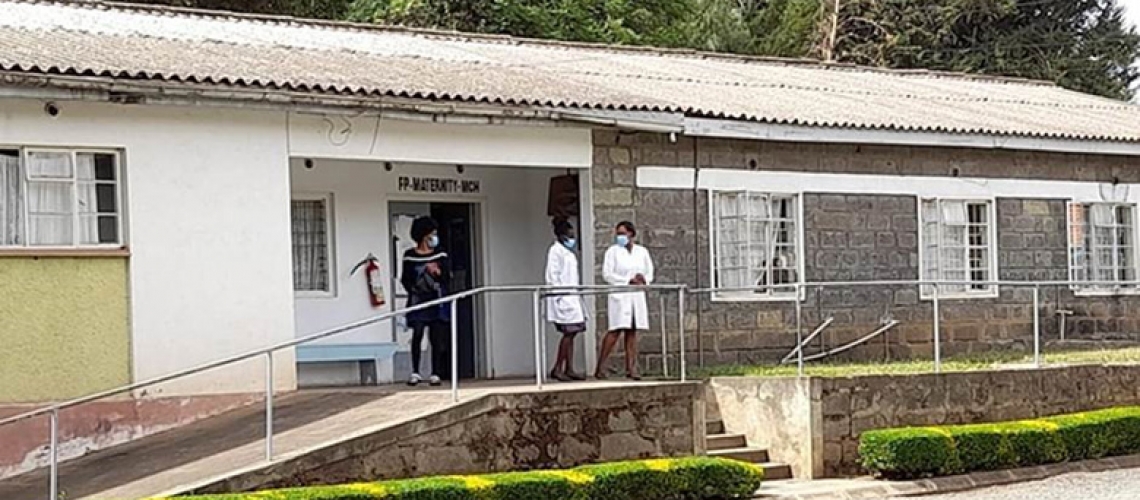 The Juggling Act: Supporting young mothers complete higher education in Kenya
---
A newly wed, Isabelle Beatrice Mukandungutse moved from Rwanda to Kenya in 2017 to pursue her Master of Science in Animal Nutrition at the World Bank sponsored Africa Centre of Excellence (ACE) in Sustainable Agriculture and Agribusiness Management (CESAAM) hosted at Egerton University. Soon after she started her program, she learned that she was pregnant. Instead of dropping out of her program and going back home, she stayed at the University – with much support and motivation from the University and ACE leadership and her classmates - had the baby, continued with her academic program, and graduated (virtually, because of Covid) in December 2020. Isabelle's journey is the first, but not the only one at this ACE. While she is already in the process of pursuing a doctoral program, she set the precedent for other young mothers who are currently studying at CESAAM.
CESAAM is one of the 24 Centers supported under the regional Eastern and Southern Africa Higher Education Centers of Excellence Project (ACEII). Since the project inception in 2017, more than 8,000 direct project beneficiaries have enrolled in Master's, PhD or short-term programs across all ACEs, and one-third of these beneficiaries are female students. ACE project encourages gender inclusion and promotes participation of female students in fields that have not traditionally attracted many women. In addition, the ACEs have taken steps to improve recruitment of women through extending various financial aid measures, prioritization for accommodations, and other efforts specifically focused on supporting mothers of small children (funds and accommodations for childcare, additional insurance costs, etc.).
Currently, CESAAM has enrolled almost 240 student beneficiaries, over half of them are females (52 percent), and 50 are regional female students in 11 African countries (based on team calculation from third-party verified data collected for disbursement-linked indicator on student enrolment).
How does the ACE attract female students not just from Kenya but from the region?
The ACE has set aside resources and facilities specifically for female students, including young mothers who are far away from home and their families. When Isabelle realized that she was pregnant, the ACE was not prepared to provide her with adequate support, but they quickly took action and moved her (at no extra cost) into an apartment with a kitchenette and an extra room for the nanny as they anticipated the arrival of the baby. The baby was safely delivered at the hospital on campus, and Isabelle's health insurance, which was already covered for by the university, was topped up to include extra coverage for the infant. Furthermore, the ACE arranged for a full-time nanny to help Isabelle juggle between being a mother and a graduate student.

Isabelle with her newborn outside her apartment on-campus (left), Isabelle in the field with her animal subjects (right); Photo Credit: Africa Centre of Excellence in Sustainable Agriculture and Agribusiness Management (CESAAM)
"Isabelle graduated in record time and with distinction, all while taking care of her child and navigating through the Covid-19 pandemic," notes her professor, Prof. George Owuor.
CESAAM's new practices to support female students, including mothers, means that the ACE now has more students from outside Kenya who are also young mothers. They are living on-campus with their children and have 24-hour access to medical support, full insurance coverage, 2-bedroom apartments and childcare support. For those who have school-age-children, there is kindergarten and baby care center. A few other measures that the host university and ACE have taken include appointing female scientists to the ACE Steering Committee, ensuring that an international female student is part of the university's student Union, and appointing a female social safeguards focal point.
Swaumu Hassan, another CESAAM graduate student and a recipient of ACE regional scholarship, moved from Tanzania in 2018 with her 7-month-old daughter to pursue a Master of Science in Agribusiness Management. Apart from the facilities mentioned above, Swaumu found the on-time receipt of her stipends very helpful in keeping up with her child's needs. The Covid-19 pandemic has set back her anticipated graduation date slightly, but she is continuing to work on her thesis from Tanzania and is close to finishing her degree.
"The future of women is in their own hands… the future is female… [women] need to go get any opportunity that comes across them without any limitations," says Swaumu Hassan.
Flomena Cyprian Laswai also joined the CESAAM with her 2-month-old daughter to pursue Master of Science in Food Science. Apprehensive, at first, to move to a foreign country with her infant, she soon became comfortable when CESAAM provided on-campus accommodation for her family. She now takes breaks in-between classes to check on her daughter. She has already started conducting her research and is now writing her thesis and preparing to graduate soon.
"Being a mother and at the same time a student, has made me strong; because I am able to balance my time to attend classes, study and take care my daughter," says Flomena Cyprian.
All these women have shown their resilience and commitment to excellence with a little support from their academic institution and a lot of motivation from the Center leaders. While Isabelle wants to continue doing research and work in the field, Swaumu wants to be lecturer, and Flomena is determined to be a food scientist. They all aspire to go back to school again to get their doctoral degrees in their respective fields. Even if they do not choose CESAAM for their future studies, CESAAM will always be the institution that provided them the confidence and support to perform the 'juggling act' of being a parent and student.
SOURCE: https://blogs.worldbank.org/
---