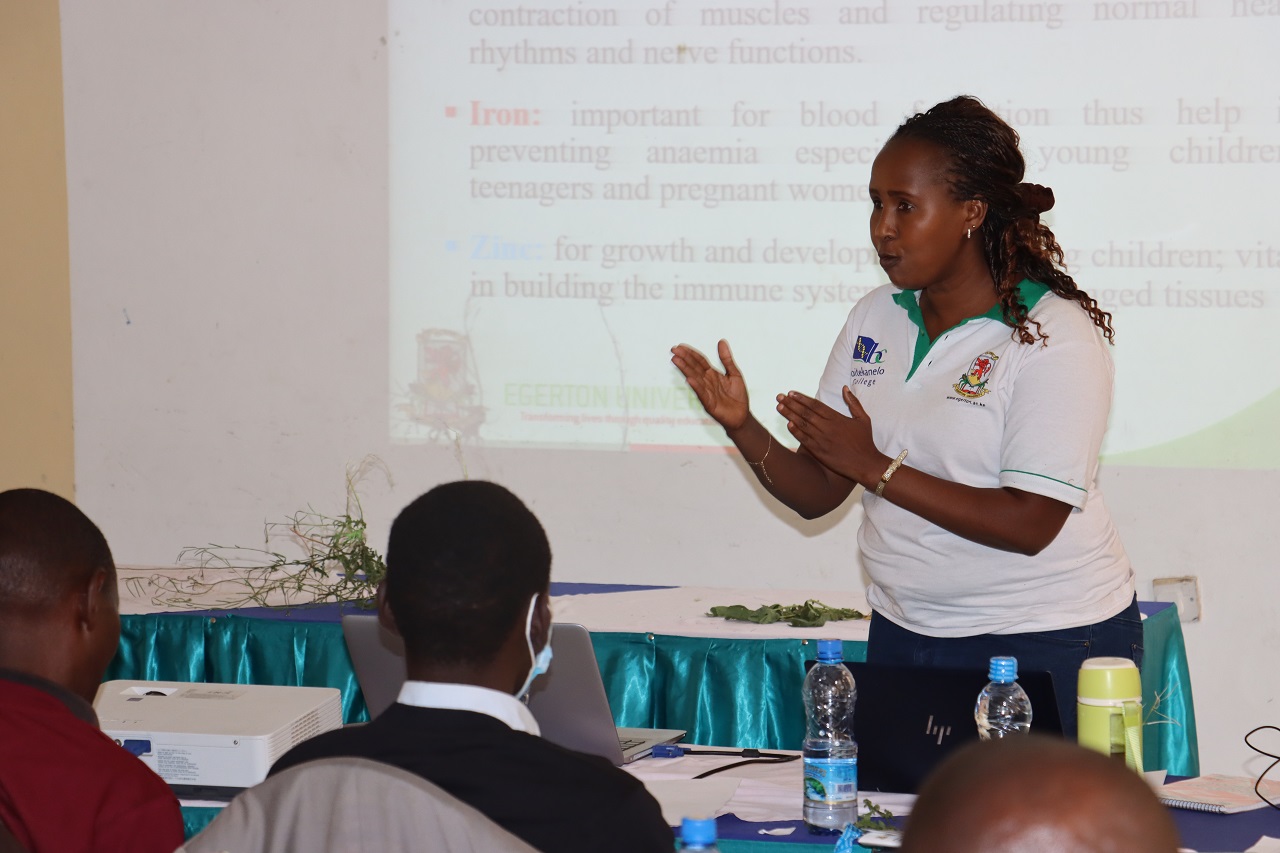 Study on Togotia Leaves Shows Drought Tolerant and Disease Resistant Crop Variety to Boost Food Security in Kenya.
---
The small African leafy vegetable Togotia has been discovered to be a drought-tolerant and disease-resistant crop, according to research carried out by Dr. Miriam Karwitha Charimbu and Dr. Charles Kihia of the Egerton University Department of Crops Horticulture and Soils and Department of Biological Sciences, respectively. The project, called "Exploring the potential of Togotia a forgotten African leafy vegetable for nutritional security and climate adaptation in Kenya," aimed to understand the growth habit of Togotia and develop appropriate cultivation systems while also determining the nutritional qualities of derived food products.
Dr. Charimbu and Dr Kihia from the Department of Crops Horticulture and Soils and Department of Biological Sciences, respectively, partnered with Dr. Guillermina Mendioindo from the University of Nottingham UK and Professor Maud Muchuweti from the University of Zimbabwe to develop and implement the project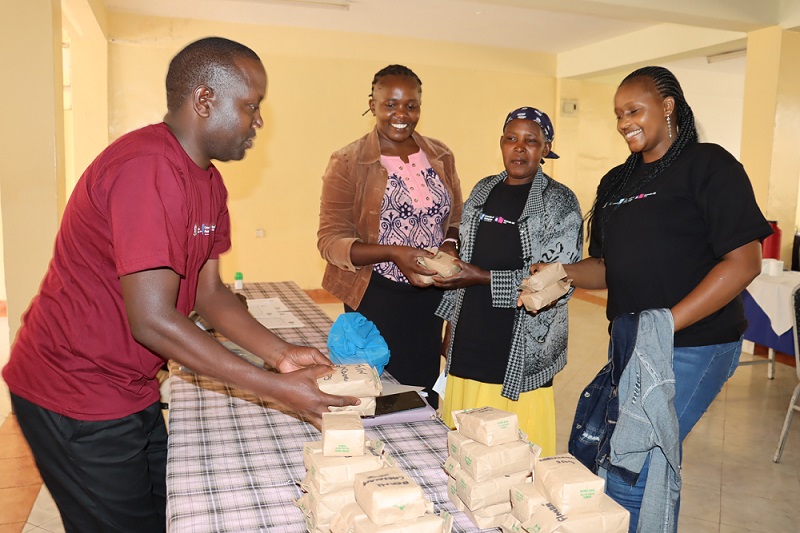 .Togotia Consumption Averages 56.4 Times Annually
Through focus group discussions and in-depth questionnaires conducted in Nakuru and Baringo Counties, it was discovered that Togotia is commonly consumed as a vegetable, fodder, and herb across various communities in Kenya. The study revealed that Togotia consumption averages 56.4 times annually, but this varies across different counties. Two ecotypes of Togotia were discovered to have high nutritional value and production potential in Kenya.
The research also led to the development of a Togotia seed system through Egerton University Agro-Science Park, led by its director, Professor Paul Kimurto, who allocated land for seed multiplication.
"We look forward to growing Togotia and developing it to the commercialization stage. We will continue to support its development and multiplication so that we come up with the best varieties. If possible, we will also hopefully do genetic modification of the crop with other vegetable varieties in the country to come up with varieties that germinate easily, yield higher, and are drought tolerant and disease resistant to help deal with food security in the Country and other parts of Africa," said Professor Paul Kimurto during the results dissemination workshop in a Nakuru City Hotel.
Drought-tolerant and disease-resistant crop
The discovery of Togotia's potential as a drought-tolerant and disease-resistant vegetable crop was groundbreaking news for Kenya, which has been grappling with food insecurity caused by droughts and crop diseases. The research outcomes gave farmers hope of a better future, and many of them began to cultivate Togotia on their farms. The crop's popularity surged, and soon Togotia was being grown in large quantities across various parts of Kenya.
Project Funding Lauded
The researchers expressed her gratitude for the project funding from Innovate UK KTN to carry out the research through the GCRF AgriFood Africa Innovation Awards Round 3. The project aimed to understand the growth habit of Togotia, also known as Sarat in Kalenjin develop appropriate Togotia cultivation systems and determine the nutritional qualities of derived food products.
Togotia is a leafy vegetable that is not very well known, but the study done at Egerton University showed that it is a significant part of the diet for many communities in Kenya. The study, which involved focus group discussions and in-depth questionnaires in Nakuru and Baringo counties, showed that most respondents indicated that Togotia is used as a vegetable (50%), fodder (22%), and herb (12.5%).
Most communities from Central Kenya (Kikuyu, Embu), Eastern (Meru, Kamba, Tharaka), and Western Bantu (Luhya, Kisii, Suba), Highland (Kalenjin, Sabaot), Lake region (Luo), and Plain Nilotes (Maasai, Samburu) use Togotia as a vegetable. Others in the Coastal Bantu (Swahili Mijikenda, Taita), and Cushites (Somali, Orma, Gabra) use Togotia as fodder and herb. On average, Togotia consumption is 56.4 times annually but differs among counties. It emerged that consumption at Baringo County is more than double the rate at Nakuru.
Two Ecotypes of Togotia
The research showed that two ecotypes of Togotia, found in different ecological zones in Baringo and Nakuru counties, have high nutritional value and potential in Kenya. The two ecotypes occur in two rainfall regimes, above 1000mm, in the following regions: Mau Narok, Bahati, Ravine, and Baringo Central. The mean Togotia density was 15.19 per m3, with an average of 2 branches per plant, 7 leaves per branch, giving a leaf yield of about 177 leaves per m2. Togotia ss occurs in association with 23 species of weedy plants dominated with Wood Sorrell (21%), Macdonald's eye (14%), and Blackjack (13%).
Impressive Results during Germination Trials
The controlled germination trials of known numbers of Togotia sp and Thawani seeds obtained from Nakuru and Baringo, respectively, showed that the average germination rate for all seeds was 33.4%, but varied significantly among the two ecotypes. Thawani had the highest germination rate (57%), which was more than five-fold higher than Togotia SS (9%). This is because of seed dormancy exhibited by some indigenous crops.
The project conducted at Egerton University was able to gather valuable technical advice, conduct data collection, and perform nutritional analysis and laboratory experiments to determine the value of Togotia Species. The findings suggest that Togotia Sp has various benefits for farmers, consumers, and the community at large. Technical advice was sought from experts such as Dr. J. Mafura, Plant pathologists from CHS department, Dr. Maureen Cheserek, Food nutritionist at Department of Nutrition and dietetics, Dr Lilian Chesikaw from Directorate of gender and Peter Amwoga. from Biological sciences Department who are also project. Others who participated are Msc and PhD students who include Grace Wanyoike and David Ongige assisted with the development of on-farm demonstrations, and technologists Doris Njoki and Herman Otieno carried out laboratory experiments. Other students were Judith Kipchumba and Faith Chepkongá of Agribusiness management department who participated in the collection of socio-economic data. Shadrack Chumo and Shagala performed nutritional analysis.
To gather credible information, farmers from Nakuru (Bahati, Kiambogo, and Mau Narok) and Baringo (Ravine, Kabasis, and Ossein) counties were engaged in focus group discussions. It was found that Togotia SS is consumed as a vegetable cooked alone or mixed with other vegetables as an accompaniment to Mokimo, Githeri, among others.
Nutritional and economic Benefits of Togotia
In Baringo, Togotia SS is sold as a vegetable to generate income, mostly by women. Additionally, farmers reported that Togotia may be solar-dried and stored for use during droughts or when other vegetables are unavailable. The seed can also be harvested and sold to other farmers for income generation.
Togotia is a rich source of crude protein, calcium, iron, zinc, magnesium, phosphorus, vitamin C, and B. The consumption of these vitamins and minerals from Togotia has numerous health benefits, including reducing obesity, heart disease, high blood pressure, and mental decline. It can slow down aging and strengthen the immune system.
Among the farmers who started growing Togotia was a woman named Julia Chebotibin. She had been struggling with crop failure due to drought and crop diseases for many years, and the discovery of Togotia gave her hope of a better future. Julia had a small farm in Baringo County, where she grew maize and beans, but the crops had not been doing well due to the drought.
When Julia heard about Togotia's potential as a drought-tolerant and disease-resistant crop, she decided to try his luck and planted a small patch of Togotia on her farm. To her surprise, the crop grew well, even though there had been no rain for several weeks. Julia was impressed by the crop's resilience and decided to plant more Togotia on her farm.
As she harvested her first batch of Togotia, Julia was filled with joy and excitement. The crop had exceeded her expectations, and she knew that she had found a new source of income. Julia began to sell Togotia at the local market, and soon she was making more money than she had ever made before. She was able to pay for her children's education and invest in her farm.
Other farmers in Nakuru and Baringo Counties also started growing Togotia, and soon the crop was being sold across the country.
The farmers who attended the launch of the results were given various improved seeds varieties from Egerton University Agro-Science Park Seed Unit which included EUSV1-Sorghum, Chelalang, Light Tan and Tasha Beans Seeds, Snapping Finger Millet, and Ndovu and Mwangaza groundnut Varieties. The Marketing, Resource Mobilization and Parks Director Professor Paul Kimurto reiterated that the farmers ought to plant the seeds during this rain season to cushion then from hunger than has been ravaging communities in Kenya. He also promised farmers that Togotia will also be included as part of vegetable varieties for after all multi-locational trails and commercialization is complete and KEPHIS registers the variety after National variety evaluation.
By;Kurian Musa
---