Egerton University appoints New Director for Tegemeo Institute of Agricultural Policy and Development
---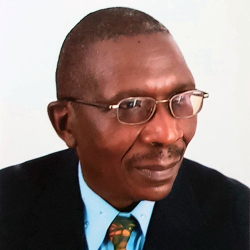 Egerton University Council appointed Professor Gideon Obare as the Director of Tegemeo Institute of Agricultural Policy and Development effective 1 August 2021 for three years. Prof. Obare is a Professor of Agricultural Economics at the Department of Agricultural Economics and Agribusiness Management in the Faculty of Agriculture, Egerton University.
An Agricultural Economist by training Prof. Obare over two decades of University teaching and Research and as a Professor of Agricultural Economics, a role he has had since March 2013, he has played a critical role at the Department and Faculty level. He has provided academic leadership to the academic staff; participated in teaching, research, planning, development and evaluation of academic programmes; and provided guidance and direction on new fields of study to staff and students. He has been Chair of the Faculty Training Committee in charge of Academic staff evaluation and promotions.
Among his other roles throughout his illustrious career, he served as visiting Professor from December 2009 to March 2011 at the Food Security Center at the University of Hohenheim (Germany). In this role, he designed and implemented a PhD module in Interdisciplinary Aspects of Food. From December 2005 to December 2006, he served as visiting researcher at the International Crops Research Institute for Semi-Arid and Arid Tropics (ICRISAT), Eastern and South African Region. Conducted research on the assessment of "innovative" market institutions for integrating marginalised farmers into markets. The research outcomes were based on research conducted on marketing groups in the semi-arid Eastern Province of Kenya. Prof Obare has also been a Kenyan team leader in the "Identifying socioeconomic constraints to and incentives for faster technology adoption: Pathways to sustainable intensification in Eastern and Southern Africa (Adoption Pathways)" Project funded by Australian Centre for International Agricultural Research (ACIAR).
Prof. Obare has 55 publications in peer-reviewed scientific journals and 58 papers presented in national, regional, and international conferences. In addition, he has successfully supervised 28 Masters and 7 Doctorate students in his field of specialisation.
As the Director, he is expected to bring in his experience and knowledge to enhance Tegemeos's commitment to conducting proactive policy research and advocacy that enhance food security, create wealth and sustain the environment.
The University Council, Vice-Chancellor, University Management Board, staff and students wish Prof. Gideon Obare every success in his new position.
---