Cassava value chain project hopes to boost food security
---
As a farmer and a community leader, retired policeman Simon Peter Gitahi's constant worry until 2018 was how a local growers' marketing cooperative society could be kicked back to life and help farmers earn an income from cassava farming.
Gitahi, who was also the chair of the Subukia Cassava Farmers' Cooperative Society, had led smallholder farmers in the lower Subukia area of Kenya's Nakuru County into transforming a local self-help group into the cooperative society in 2014, with ambitious plans for processing foods and feeds from the crop.
Besides earning the farmers an income, this would also provide a ready market for their produce, he reasoned. It would also ensure food security in this largely arid catchment area and the neighbouring Solai administrative division.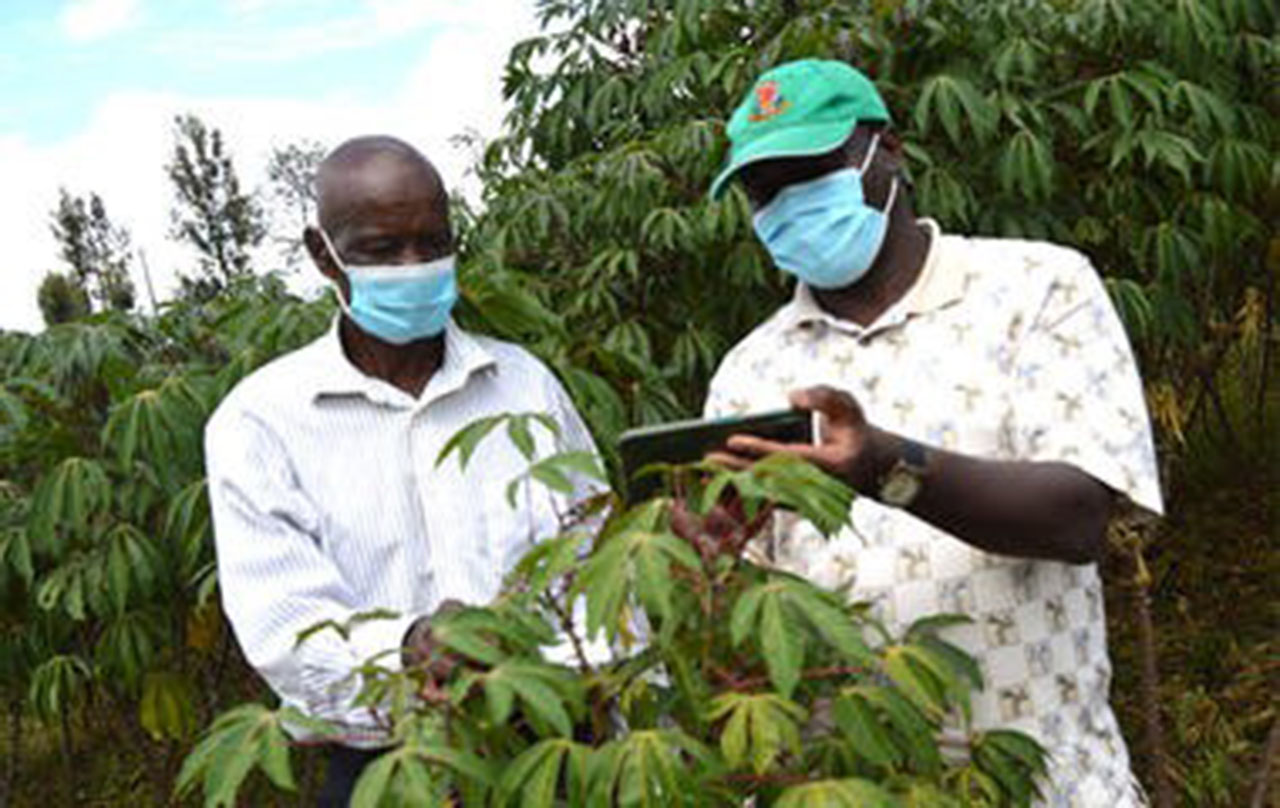 Professor Richard Mulwa with cassava farmer Simon Peter GitahiProblems, however, cropped up along the way. Despite the 110-member group owning millions of shillings' worth of machines for processing flours and chippings from the tuber, they did not have a building of their own in which to install the equipment.
They had to install the machines in a leased building that upset the owner because of the vibration caused by the heavy equipment.
"Getting a parcel of land to build our own premises became an urgent matter, and with support equipment. However, we did not have electricity to run the factory or adequate supplies to support our value-addition plans," Gitahi recalled.
Luckily for the cooperative, it was at around this time that the Cassava Value Chain Upgrading project for secure food, nutrition, income and resilience of smallholder farmers in the arid and semi-arid lands of Nakuru County (CVCU) was being launched by Egerton University, with Professor Richard Mulwa as principal investigator.
Training in food science
Cassava is a drought-tolerant food security crop in Kenya, with household demand increasing. Despite its capacity to withstand climate shocks, its production faces challenges including the destructive Cassava Brown Streak Disease (CBSD) as well as late maturing, low-yielding varieties and a poor local consumption culture.
"The general objective of the project is to contribute to improved food, nutrition and income security of smallholder farmers through innovations in the cassava value chain," Mulwa explained.
"Training also targets Technical and Vocational Education and Training students, women and youth groups, as well as farming groups. They are being trained in production, processing and marketing of cassava-based products, its breeding, as well as food science."
The CVCU project is an initiative of the Community Action Research Project (CARP+) by the Regional Universities Forum for Capacity Building in Agriculture and the Mastercard Foundation. One of the project goals in Subukia was to ensure the revival of the cooperative.
It is because of this determination that Gitahi and Subukia farmers can look to the future with hope, for the CVCU project has made a US$2,000 grant to the cooperative after a two-year engagement.
The money will go towards installing the machines, connecting three-phase electricity and renovating the premises ahead of resumption of food processing around January 2022.
It will also help explore ways of using cassava flour for making products such as cakes and biscuits to diversify its use.
Mulwa said progress has been made in the fight against CBSD, including the identification of a Tanzanian variety of cassava that is resistant to the disease.
Five varieties have also been identified that are best suited to the area in terms of yield, fast maturity and low cyanide levels, the latter chemical toxin being part and parcel of the root crop.
"We are now in the process of transferring the resistance genes of the Tanzanian variety to the locally adapted breeds using molecular marker-assisted techniques.
"These new varieties will be a gem to farmers once certified for bulking and distribution," said Mulwa, who is also the acting deputy vice-chancellor in charge of administration planning and development at Egerton.
A recipe book and business opportunities
The project team has prepared a recipe book and a processing manual for farmers, to make it easy for them to make maximum use of the produce and find opportunities along its value chain.
"In addition, the project is identifying business opportunities in the value chain targeting the youth. We plan, for example, to create jobs for youth in organised groups to operate chipper machines for processing cassava," Mulwa added.
Besides support for farmers and youth, the project has trained five MSc students, with three of them having graduated and two finalising their theses, and is training two PhD students, one in plant breeding and another in food science.
Milkah Wambua is the food science doctorate student under the project. She is working on cassava-based products suited for households in arid and semi-arid areas of Kenya, such as cookies and biscuits.
She appreciates that the tuber is high in starch but low in protein and is exploring ways of developing blended products with camel milk to be used as supplements during food-shortage seasons.
"I'm at the last stage of product development. Later this year, or by early next year, I will have characterised two cassava varieties introduced into the project area, and see what different properties exist between the two, and identify which is best suited for my products," she told University World News.
She has already concluded some trials on the products and has published an initial paper, one of the minimum two that the university requires before she can defend her thesis.
For now, the mother of two, who divides her time between running a cafeteria, her PhD coursework and caring for her family, is busy analysing data with the hope of graduating by the middle of 2022.
Read More...@University World News
---