PBL Student challenge takes place at ARC Egerton University
---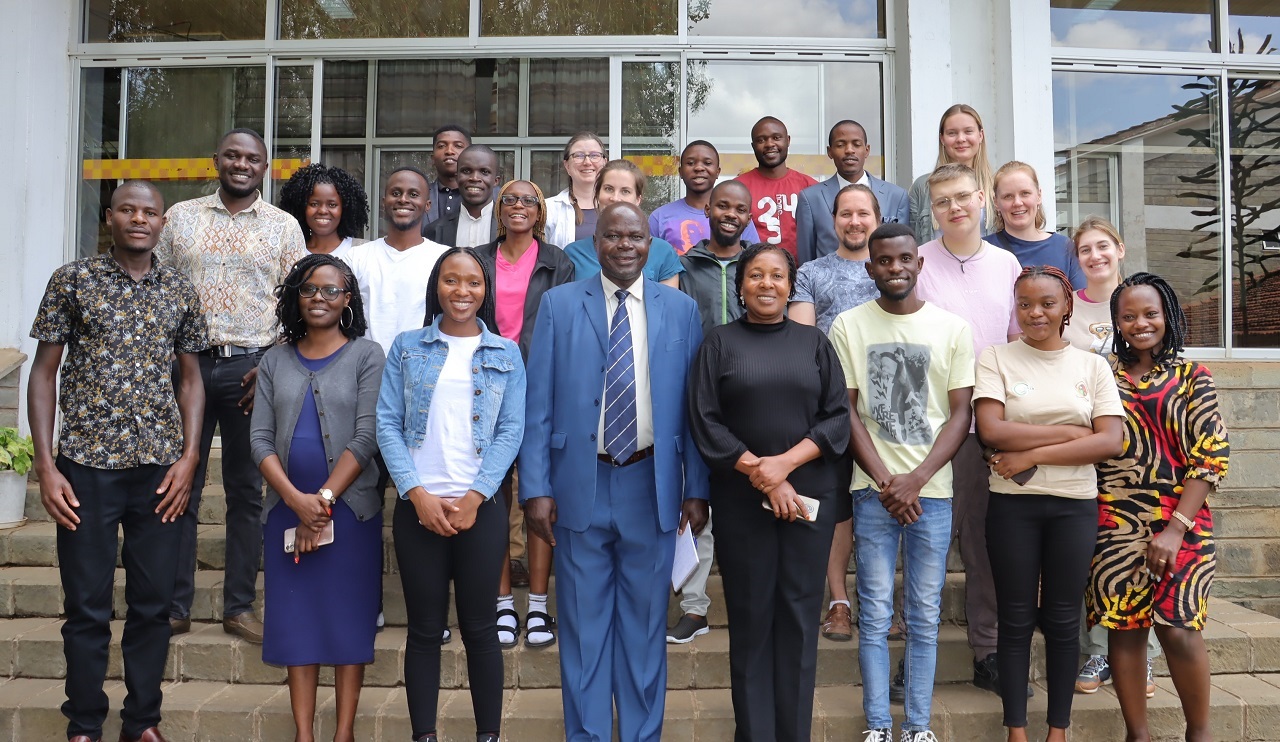 The Principal of Nakuru Campus College Prof. Joshua Ogendo (fourth from left) and the Dean of Faculty of Agriculture Prof. Patience Mshenga (fifth from left) pose for a group photo with students and mentors from Egerton University, the University of Zambia, and Häme University of Applied Sciences (Finland) during the launch of the 2023 (PBL) Student Challenge Programme on 6th March at Main Campus in Njoro)
A two-week student challenge program was held from Monday 6th March to Friday 17th March at ARC Egerton University.Problem Based Learning (PBL) is a paradigm shift from hypothetical class approach to practical life challenges in the field that inform learning and teaching activities in higher learning institutions. It's a replica of Competency Based Curriculum that was rolled out recently by ministry of education at lower education levels in Kenya. Problem Based model of teaching and learning is being implemented in Finland which has the best education system in the world.
The program is being coordinated by Prof. Patience Mshenga(Dean FOA) who in her opening remarks stated that "I am trying to make a difference in the society in my own small way". Those sentiments were echoed by Prof Joshua Ogendo (Principal NTTC) who said "The power of women in transforming the society is irresistible". The student challenge activity is under the PBL-BioAfrica project which is funded by HEI ICI (Higher Education Institutions Institutional Cooperation Instrument)/MFA (Ministry for Foreign Affairs of Finland) for a duration of four years. The project aims at strengthening bioeconomy education through promoting PBL (problem-based learning), entrepreneurship, innovation, and digital learning methods in Sub-Saharan Africa. PBL-BioAfrica is a collaborative project for strengthening the capacity in bioeconomy higher education institutions of Kenya and Zambia. The program integrates problem-based learning methods into bio-entrepreneurship education to equip graduates with practical and entrepreneurial skills needed in working life.
Through PBL-BioAfrica students can participate in real-life industrial and societal projects. Teachers are also provided training courses on PBL, participatory online teaching and climate smart agriculture. Another objective of PBL is to strengthen the networks among higher learning institutions nationally and internationally, as well as with the industrial sector. Project results and best practices in student centered learning are spread to wider sub-Saharan Africa through the Regional Universities Forum for Capacity Building in Agriculture (RUFORUM).
For the two weeks students were working on a challenge titled"Role of Youth Entrepreneurial Orientation in Building Sustainable Agribusinesses". The aim of the challenge is to co-create solutions to youth unemployment by bringing together 19 students from 3 universities that include Egerton University, The University of Zambia (UNZA) and Hamme University of Applied Sciences(HAMK) in Finland. In each university, students are guided by a mentor who has undergone PBL training. Mentors for the student challenge were Eva Nambeye (The University of Zambia), Natalie Helenius(HAMK) and Maurice Simiyu(Egerton). Victor Kilui Wabwile (Egerton), who also leads Communication and Disseminationin the project was the head of Project Implementation team. These students collaborate with project clients in the society whose activities are in sync with goals of the student challenge. The project client was FIDA (Finland Integrated Development Association) which is working with Matungu Youth Group in Kakamega County to bring sustainable development solutions not only to the youths but to the larger Matungu society through Agrienterprises. As part of the program students went to the field in Kakamega and visited the youths, held focused group discussions, conducted trainings and exchanged culture for 3 days.
Matungu Youth group was founded in 2018 after rampant cases of criminal cases and early pregnancies in Matungu Sub- County, Kakamega county. The youths decided rather than being idle it's better to join Agriculture. Their vision was to be self-reliant in terms of economic and food security so as to stop being lured into criminal and negative behaviors. The group was started by 7 members consisting of 2 girls and 5 boys. From its inception the group has grown and currently has a membership of over 100 Youths including school drop outs, graduates at primary, secondary and continuing students at tertiary and university levels.
Since its formation the Youth Group has neutralized criminal activities and brought sanity in the community of Matungu villages of Masasa, Kipanga, Sangwe, and Buloma where this problem of violence was serious, since the inception of this development group, peace has been restored back to normal but not to its full potential due to scarce resources. The youth group has engaged in several activities such as Arrowroot, indigenous vegetables, fish farming, rabbit keeping, pig keeping, fodder growing, and rice growing. There is also beekeeping which is coming up and all this is being implemented within one and a half acres of land. The group has experienced low production, low quality and marketing which has demotivated some members.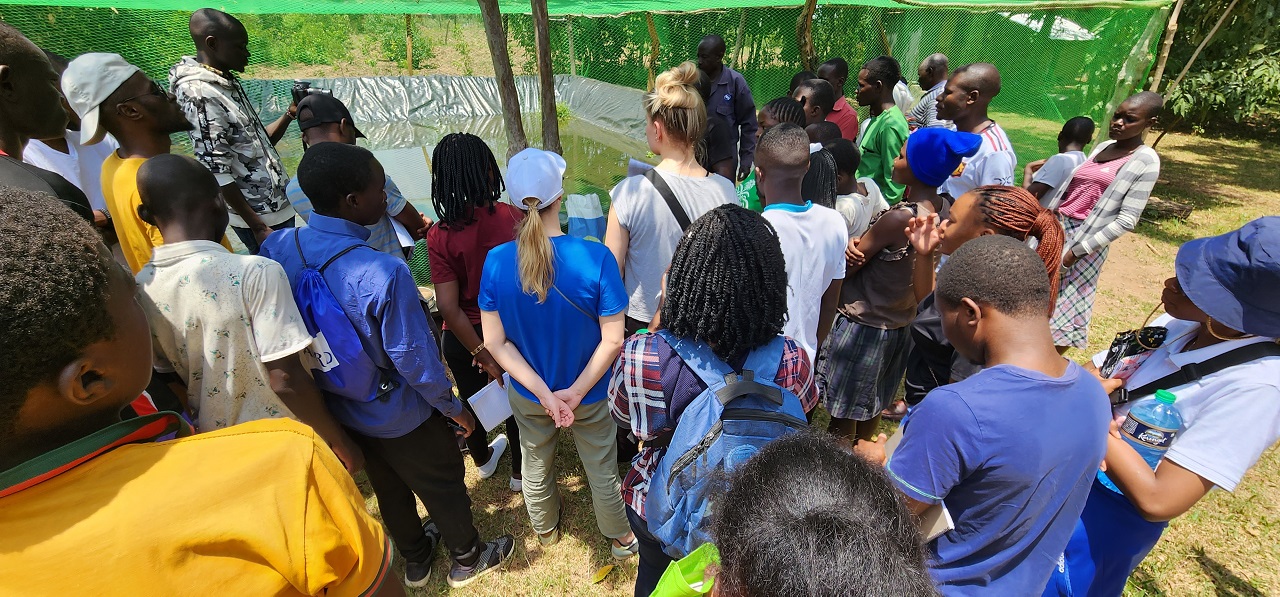 The HAMK student team departing to Finland after the student challenge
To enhance teamwork students were grouped in 4 teams dealing with different crop and livestock enterprises. While in the team'sstudents were tasked with developing solutions to existing challenges in livestock and crop value chains which they found out in the field. They also designed stakeholder engagement plans, gross margin analyses, SWOT analyses, Sustainability models that will enable the group to not only survive but thrive in their enterprises. The facilitator's deployed human centric and problem-based learning strategies to create a conducive learning atmosphere that combines builds mentoring and reverse-mentoring relationships.
PBL student challenge is a fantastic program that develops a wholistic student who can handle 21st generation challenges. It imparts students with knowledge, competencies, attitudes and skills that are vital in their future professional fields. Some critical skills that have been empirically proven to be attained for a student that has undergone the challenge are critical thinking, creativity, communication, collaboration and cultural sensitivity skills. The study also contributes to sustainable development goals of ending hunger and poverty, quality education, climate action and strong partnerships. In Kenya, the project will contribute to the realization of vision 2030 and bottom-up economic agenda of the government which aims at uplifting the living standards of individuals at the lower economic pyramid.
By:Agnes Mwangi
---