Egerton University is taking ambitious strides to attain international accreditation for two of its Masters programmes: Master of Science in Animal Nutrition and Master of Science in Food Science. The latest advancement in this pursuit saw a team of expert representatives from ASIIN, a well-regarded accrediting body in Europe, conduct a comprehensive two-day audit of these postgraduate offerings.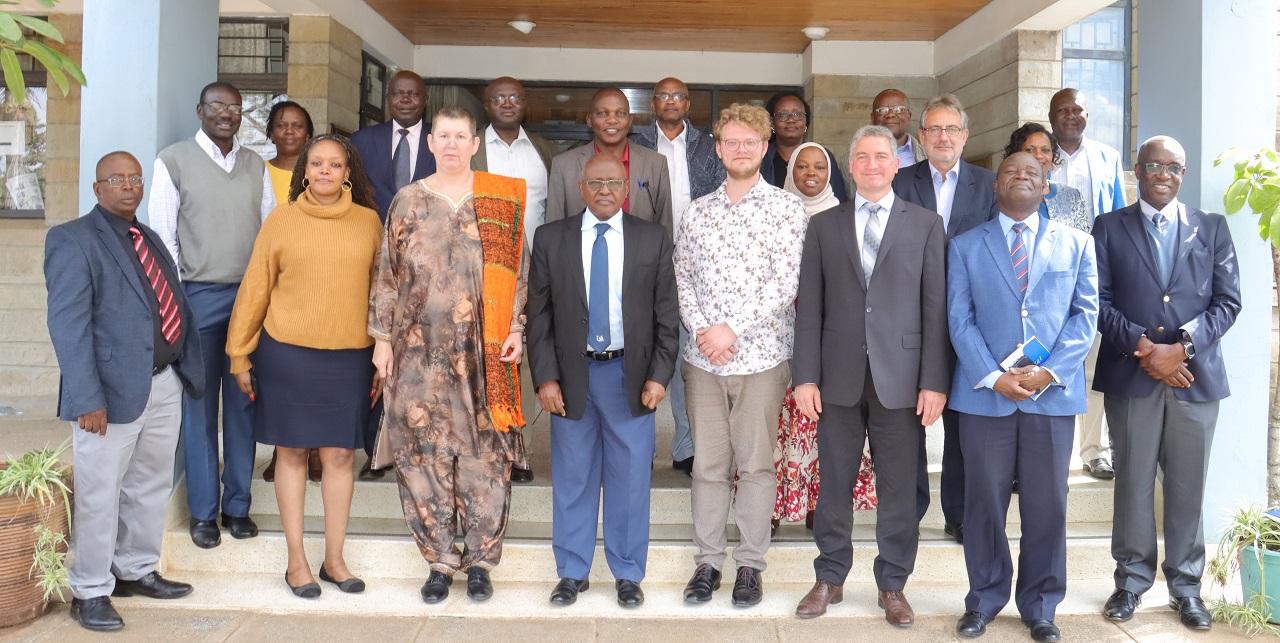 The Egerton University Management Board, Faculty members, and the ASIIN Expert team came together for a group photo, symbolizing their collective efforts to enhance the Master of Science in Animal Nutrition and Master of Science in Food Science programs through international accreditation.
The ASIIN expert team comprised Prof. Gerhard Schleining from BOKU in Austria, Prof. Bernhard Hiebl from the University of Veterinary Medicine Hanover in Germany, Eng. Anke Weisheit from Mbarara University of Science & Technology in Uganda, Sambwe Fundikira, a PhD student at Ghent University in Belgium and Sokoine University of Agriculture in Tanzania, and Sascha Warnke, the Project Manager from ASIIN's Germany office.
During their visit to Egerton University, the expert representatives engaged with key stakeholders, including the University Management Board, the Dean of the Faculty of Agriculture, Chairs of relevant Departments, Programme Coordinators, CESAAM team, Faculty, students, alumni and industry/private sector partners. Representatives from the Directorate of Marketing and Resource Mobilization were also present.
In a gesture of warm hospitality, Prof. Isaac Kibwage, the Vice Chancellor of Egerton University, extended a hearty welcome to the ASIIN team. The ASIIN experts reciprocated by providing a concise yet insightful preliminary report. This report outlined commendations, recommendations, and areas earmarked for further development, all of which stemmed from an exhaustive two-day evaluation. Key areas under scrutiny included curriculum development, stringent quality assurance mechanisms, accessibility to cutting-edge facilities, marketing of the programmes and programme coordination.
Expressing the University's gratitude for the thorough assessment conducted by ASIIN, Prof. Kibwage reiterated Egerton University's unwavering commitment to consistently enhancing the quality of its academic programmes. He affirmed that the guidance provided by the ASIIN team would prove invaluable in raising the benchmark for the Masters programmes' global competitiveness and quality.
As Egerton University anticipates the comprehensive ASIIN report, the prospective benefits of international accreditation for the Master of Science in Animal Nutrition and the Master of Science in Food Science programmes are substantial. The accreditation's global recognition would bolster the University's reputation and prestige, attracting students seeking top-notch education and industry-ready skills.
By: Agnes Mwangi