Egerton University and Boitekanelo College from Bostwana recently jointly trained more than 20 Finger millet farmers representing seven community groups from Kipsitet area of Kericho County on value-addition of their finger millet harvest. The farmers were drawn from local farmer groups which have adopted the high yielding, fast maturing and highly nutritious U15 and P224 finger millet varieties developed under the KALRO - Egerton University Kenya Climate Smart Agriculture (KCSAP) Finger Millet Value Chain Project.
The training was conducted on 16 October, 2021 by staff and students from the Department of Human Nutrition of Egerton University and those from the Department of Nutrition and Dietetics of Boitekanelo College. The two institutions are currently running a Nutrition and Dietetics (N&D) Exchange Programme which has student exchange and joint teaching and research components.
Now that the farmers are reaping huge benefits from the improved production of finger millet, the training seeks to help them learn the nutritional and health benefits of the crop. Finger millet is high in calcium, zinc and iron. This makes it a highly nutritious and healthy traditional cereal – particularly important for infants, young children, expectant and breastfeeding mothers, older people, and the sick. In addition, the farmers were trained on how they can diversify their incomes by not only selling their surplus harvest but also making various finger millet products which they can also sell within their communities. This is also likely to improve the incomes of women who are key breadwinners in many rural families.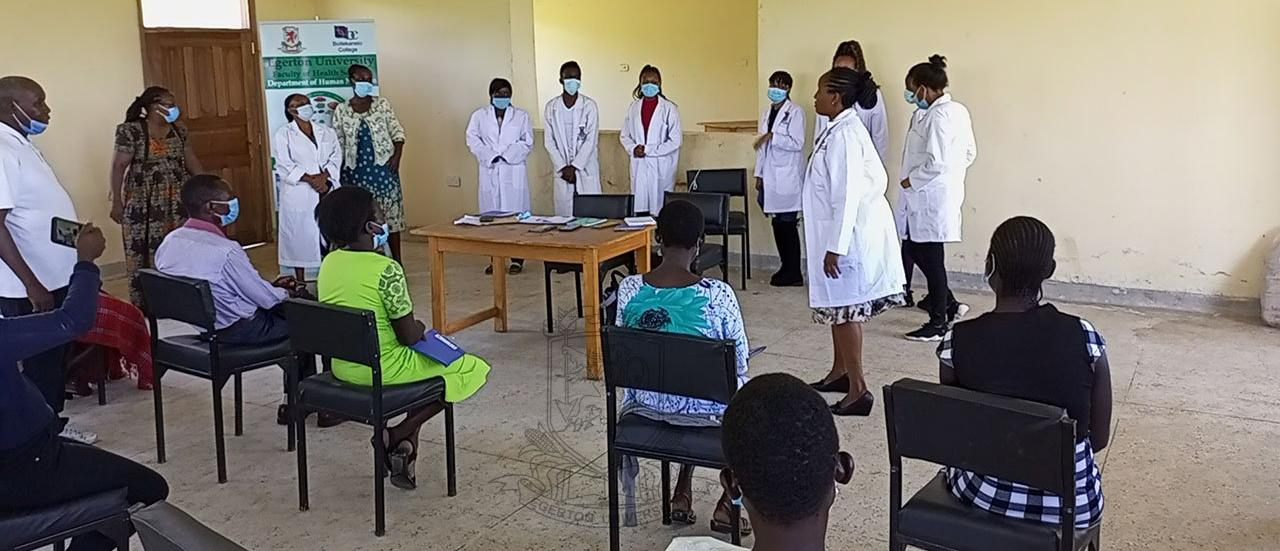 According to Dr. Maureen Cheserek, a Clinical Nutrition and Dietetics Lecturer from the Department of Human Nutrition at Egerton University, the training seeks to implement a multi and cross-disciplinary approach to solving nutritional and health problems in Africa with a particular focus on Kenya and Botswana which have similar food insecurity and health challenges. Dr. Cheserek is the N & D Programme Coordinator and the Team Leader, Nutrition and Value Addition component, in the finger millet value chain of the KCSAP project. Finger millet has traditionally been used for cooking ugali and porridge but through the training, the farmers were equipped with skills to bake cakes and biscuits, prepare chapatis, mandazi, onion bites and crackies, among other products, using finger millet flour. The training which uses a participatory approach will see the trained farmers train others in their groups and expand the skills among various community groups.
'We map our community nutrition extension and outreach activities on three impact pathways: increased production of finger millet for own consumption by families, increased income and women empowerment,' said Dr. Cheserek.
This Finger millet nutrition component is part of the larger National Finger millet project aimed at enhancing Productivity and nutrition in Kericho and Bomet that is funded by World Bank-Climate smart project (KCSAP) jointly implemented by Egerton University led by Prof Paul Kimurto as Co-PI and KALRO Kisii as overall led partner led by Dr Chris Oduori as project PI. Other members are Bernard Tower, Dr Miriam Charimbu, Tom Owino (Egerton University), Dr Nasirembe Wanyonyi (KALRO Katumani), Dr Fridah Maina (KALRO NARL), Dr Henry Ojulong and Dr Eric Manyasa(ICRISAT-Nairobi), Prof C. Kanal (JKUAT) and Julius Maritim (KALRO Kericho). Key outputs include reaching out to over 4500 farmers in both counties in technologies, Innovations management practices (TIMPS) which has increased yields from 4-5 bags to 7-10bags per acre, introduction of improved, high yielding and disease resistant (Blast resistant) and drought resistant varieties (eg U15,, EUFM 4, NKFM1), introduction of easy to harvest varieties that reduce drudgery (e.g. Egerton snapping green variety), introduction and adoption of shellers from Egerton Engineering Dept led by Dr Musa Njue, and establishment of sustainable seed systems with linkages to markets. Post-harvest technologies that reduce losses at farmer level have also been introduced and farmers now use PICs bags, mini-silos among others. Egerton University Agro-Science Park has also benefited through supply of certified seed to project beneficiaries using the Macro-project component managed by the county project coordinators (CPCU) led by Mr Kenduiwo and Lilian Kerio chief Officer Kericho Country Government.
After the training, the farmers later participated in a sensory evaluation of the products that had been prepared. Sensory evaluation involves documenting feedback from the trainees on the appearance, texture, taste and overall acceptability of the products. Sensory evaluation is a key research phase towards getting the products validated.