By Kurian Musa
In a bid to meet the ever-changing demands of the job market and evolving technologies, the Chief Executive Officer of Commission for University Education (CUE), Prof. Mike Kuria, has called on institutions for higher learning to continuously review and tailor their academic programs. Prof. Kuria made these remarks during the 5th National Forum for Universities, TVET's, and Agricultural Stakeholders at Egerton University Main Campus.
Speaking at the Physical Science Complex, Prof. Kuria emphasized the need to incorporate interdisciplinary approaches into curricula to promote experiential learning. He stressed the importance of adapting academic programs due to regular changes in technology and the labor market.
"In reference to curriculum, there is a need for continuous thoughts of incorporating interdisciplinary approaches to relevant curricula so that we inculcate experiential learning. Programmes can be reviewed often due to regular change of technology and ever changing labour market," said Professor Kuria.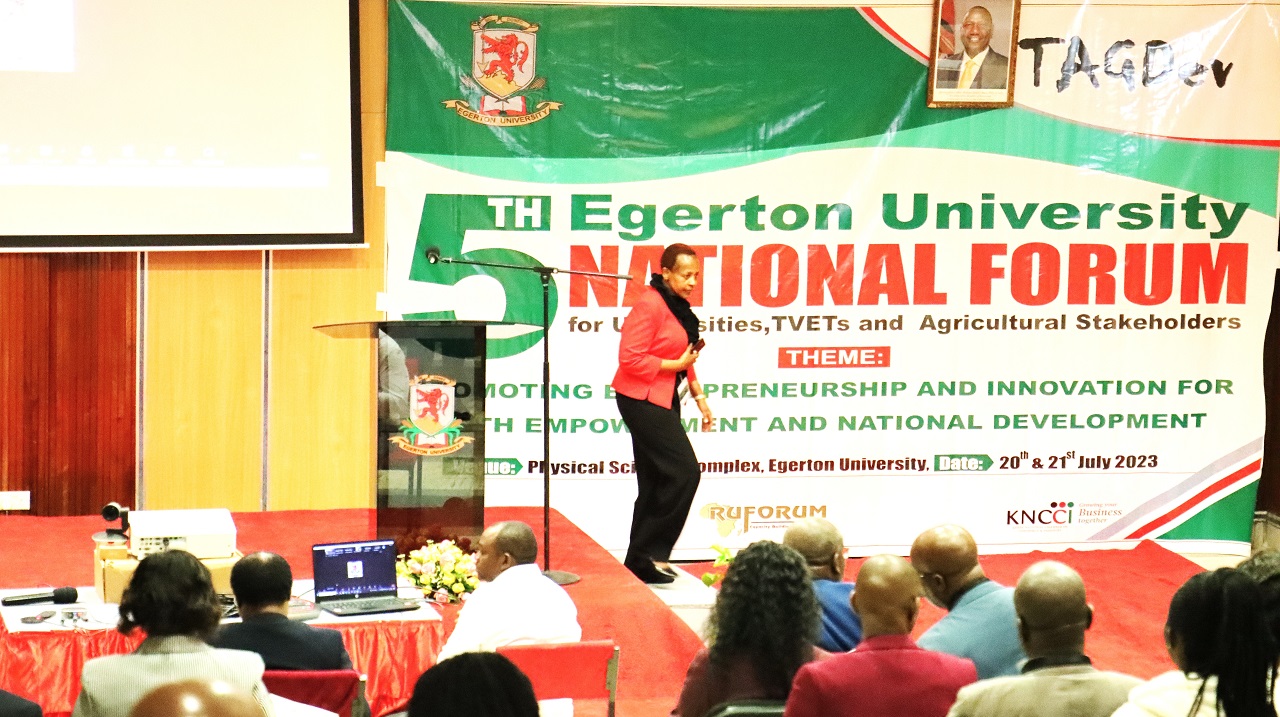 His keynote address focused on "Repositioning Higher Education Institutions (HEI) to meet the changing market needs in a resource-constrained environment." Prof. Kuria highlighted the necessity of linking industry with academia to instill soft skills required for performing tasks effectively. He also emphasized the integration of technology across all fields.
"We must think about how technology will change the kind of graduate we produce. With the influx of artificial intelligence like chatGPT, university lectures are grappling with the students getting answers and references to the assignments they are given through commanding the AI platforms," explained Prof. Kuria.
However, the CUE boss challenged the delegates to consider finding ways to integrate technological advancement in learning processes, models to have even better outcomes in research. The CUE Chief Executive suggested more flexibility and adaptability in the way teaching and testing of students is done by changing learning models and personalized education.
"The Commission has been asked to come up with regulations on how to adapt technology into curricular, but I suggest that we avoid erecting barriers while adopting technology," he stated. By so doing, he explained, Kenya's education system is good enough to attract students beyond Kenya.
In his Welcome remarks, the Egerton University Vice-Chancellor Professor Isaac Kibwage said: "the theme for this forum, "Promoting Entrepreneurship and Innovation for Youth Empowerment and National Development," resonates deeply with our commitment here at Egerton University. Today, we have gathered to address several crucial focus areas that are vital for the growth and progress of our nation."
Prof. Kibwage stated that government policy and regulations play a key role in shaping entrepreneurial area. He challenged the government agencies present like the Micro Small and Medium Enterprise Authority, Youth Enterprise Fund, Kenya National Chamber of Commerce and Industry, Nakuru County government to work together as a way of linking industry with academia.
The Vice-chancellor said that he is cognizant with the need to reposition of Higher Education Institutions (HEIs) to meet the changing market needs in a resource-constrained environment.
In concurrence with the Chief Executive Officer of Commission of University Education speech, Prof. Kibwage explained: "As we navigate the challenges posed by limited resources, it becomes increasingly important for us to patent our innovations and commercialize them so that we raise additional resources to run the Institutions."
The Egerton University boss said: "We should also adapt and align our academic programmes and research endeavors with the evolving demands of the market and industry demands. By doing so, we can ensure that our graduates are equipped with the necessary skills and knowledge to thrive in the ever-changing economic landscape as well as increasing the weak industry-academia partnerships."
Prof Kibwage opined that together, the stronger industry-academia partnerships can pave way to the nations sustainability to the future. He lauded the Egerton University TAGDEV programme that has been assisting student's innovations through patenting and going into commercialization stages. Professor Kibwage congratulated the students who have come up with innovative products saying the University has the Agro-Science Park where such innovations can be incubated.
Present in the Opening session were: Ms. Jemimah Muchugia (Regional coordinator DigiCow Africa Limited), Egerton University Director of Research Professor Nancy Mungai, Deputy Vice Chancellor Academic Affair Professor Benard Aduda, Deputy Vice Chancellor Administration Planning and Development Professor Richard Mulwa, Director of Board of Post Graduate Studies Prof. Ogendi Morara, Director Board of Undergraduate Studies Prof. Micah Chepchieng, Director Marketing and Resource Mobilization Prof. Paul Kimurto, Director International Linkages Prof. Charles Merimba, Deans of Faculty of Agriculture Prof. Mshenga, Dean Faculty of Science Dr Steve Omondi Oduor in the University, and various innovators.
Henry Ridhaa, the Chief Executive Officer of the Micro Small and Enterprise Authority represented the Chief Guest Cabinet Secretary for Cooperatives and MSMEs Hon. Simon Chelugui, who was out of the country for official trip.
In the read speech, the CS said: "I call on all of us, partners in development to continue to create platforms and networks that increase participation of our young people in very concrete ways, to unlock their potential to become catalysts for sustainable development and a prosperous Kenya.
Hon Chelugui stated that the establishment of agribusiness incubation and training centres provides a platform for young entrepreneurs to acquire technical skills. He responded to the need for policy and regulatory support saying: "The government has implemented policies and regulations that create enabling environment for youth in agribusiness."
Among other areas, the CS said the government is dealing with is the implementing the youth in agribusiness strategy. This has enabled; Youth empowerment programs to provide capacity building like KYEOP, financial support to young entrepreneurs and farmers enabling them to start or expand their agribusiness ventures. He also spoke of increased access to credit facilities for youth in agribusiness. This includes, providing targeted support to make youth-led MSEs eligible to various local and international support measures intended for graduation towards smooth operation and sustainability.
"To ensure youth led MSMEs are not left behind in the Bottom-up economic transformation, there is need to fostering an environment of innovation by establishing research centres and innovation hubs dedicated to youth entrepreneurs. Sector wide skills strategy should ensure alignment of technical and capacity building support," CS for MSMEs Hon Chelugui stressed.