This is a vehicle that is supposed to show Kenyans what to do on legal matters. I am grateful that you are supporting the project

Dr Ruth Aura - FOLLAP Project Leader
Faculty of Law Legal Aid Project (FOLLAP) beneficiaries want the project expanded
---
Beneficiaries of the Faculty of Law Legal Aid Project (FOLLAP) want it to be expanded in order to reach more people.
In a meeting held on Friday 8th October at the CMRT Hall at the Egerton Njoro Campus, the beneficiaries told the FOLLAP team that the project was very helpful to communities and they would like it to be rolled out more to the grassroots.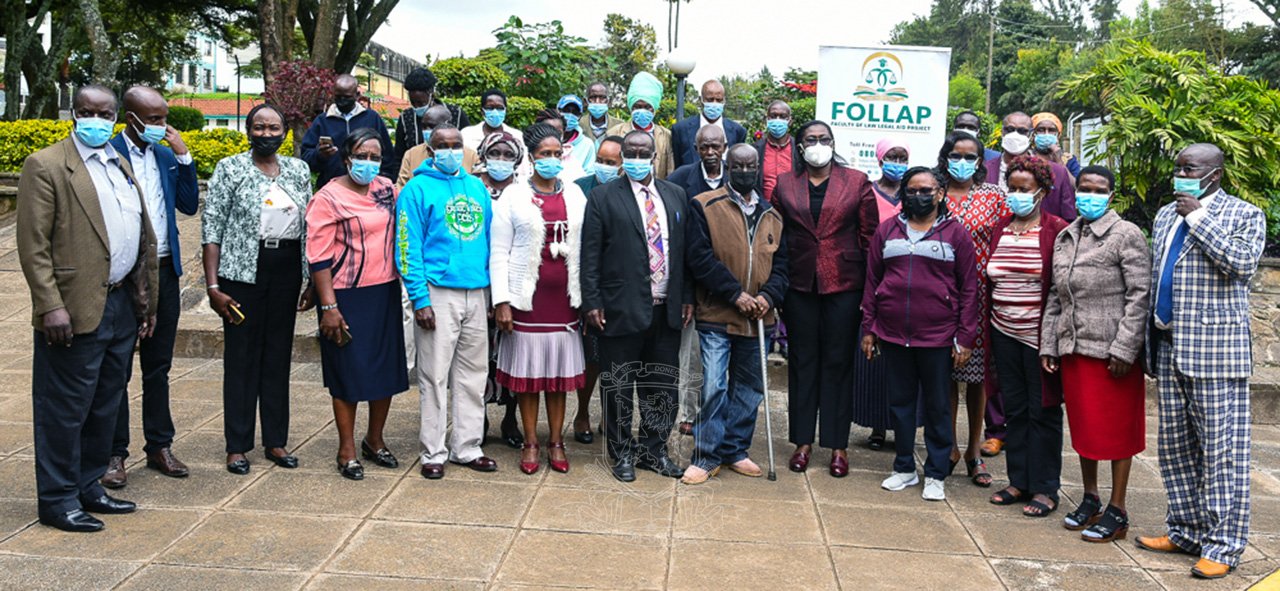 A group photo of community FOLLAP team members at the monitoring and evaluation meeting. The community promised to work closely with FOLLAP to make the project a success
The monitoring and evaluation meeting was attended by community members from the project target areas such as Nakuru Town West, Naivasha, Bahati and Rongai. A section of chiefs and assistant chiefs from these areas also attended the meeting.
The community members asked to be trained on different matters of the law such as on alternative justice systems, elections, how to report on gender-based violence (GBV), among other matters.
The project's team led by its team leader Dr. Ruth Aura welcomed the proposals saying the project would only succeed with support from the community.
"This is a vehicle that is supposed to show Kenyans what to do on legal matters. I am grateful that you are supporting the project," she said.
---