Egerton University to partner with Malatya Turgut Ozal Univercity and Ankara Yildirim Beyazit Univercity in Turkey
---
The Rector of Malatya Turgut Ozal Univercity, Prof. Dr Aysun Bay Karabulut and Doc. Dr Ercan Karabulut of Ankara Yildirim Beyazit Univercity, both based in Turkey, paid a courtesy call to the Vice-Chancellor of Egerton University, Prof. Isaac O. Kibwage, on Wednesday, 19 January 2022.
The three institutions are looking for possible partnerships and collaborations in Agriculture, Engineering & Technology and Health Sciences. The partnerships and collaborations will entail joint research, staff and students exchange programmes, joint supervision of graduate students, and innovations and entrepreneurship programmes.
"We are looking forward to working with the two institutions. We have an opportunity here to exchange ideas that will enrich our Academic Division as well as the University," the Vice-Chancellor said while giving his remarks during the courtesy call meeting.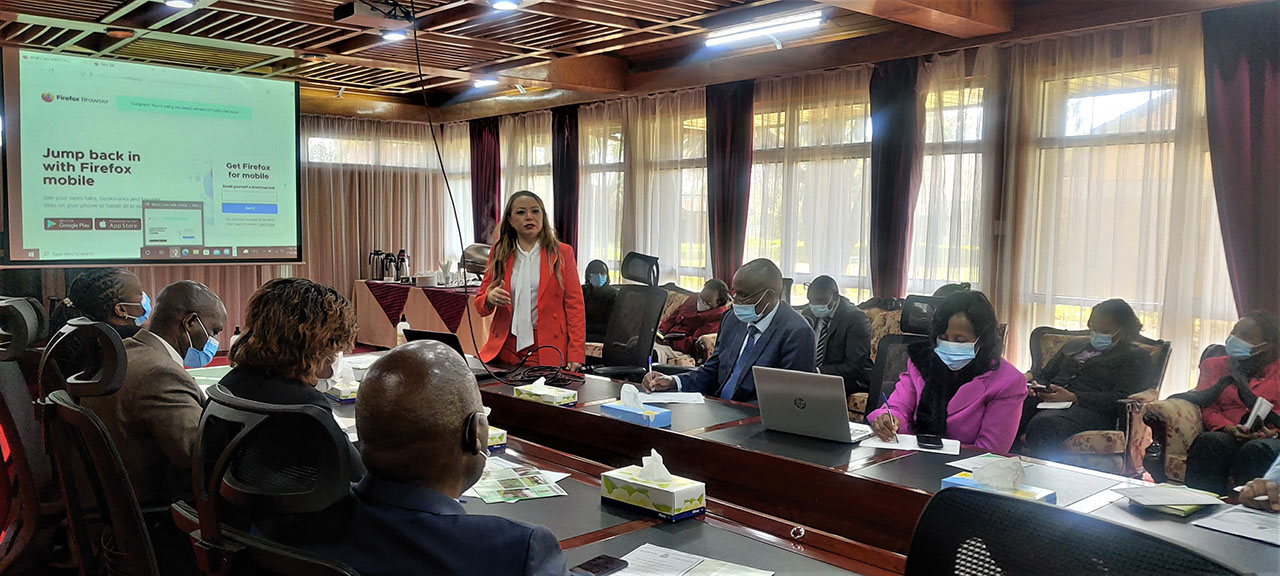 The Rector of Malatya Turgut Ozal Univercity, Prof. Dr Aysun Bay Karabulut gives a presentation about her institution during a meeting held on 19 January 2022 at Main Campus in Njoro
Rector Prof. Dr Karabulut gave an overview of the projects they are undertaking at Malatya Turgut Ozal Univercity specifically in the field of Agriculture and Artificial Intelligence and student exchange programmes.
"We have developed projects in smart hospital studies. We look forward to developing a joint project with our innovative goals with Egerton University," said Prof. Dr Karabulut.
Before the Rector Prof. Dr Karabulut and Doc. Dr Karabulut visited the Division of Research & Extension and Faculty of Health Sciences offices on Tuesday, 18 January 2022.
The Director of Marketing and Resource Mobilization, Prof. Paul Kimurto, gave a presentation on the overview of Egerton University, showcasing the various faculties, programmes, innovations and flagship projects.
"Currently, we have 102 projects that are funded by World Bank, MasterCard Foundation, Food and Agriculture Organization of the United Nations, among others. We are also in partnerships with various universities such as Nanjing Agricultural University, Western Michigan University and the University of Greenwich", said Prof. Kimurto.
The Dean Faculty of Agriculture, Prof. Patience Mshenga, gave a brief about her Faculty and welcomed the new collaboration with the Turkish institution. The Dean Faculty of Health Sciences, Dr Christine Gathiri, said that the partnership in Artificial Intelligence would develop innovations that will enhance the telemedicine approach in the management of patients. The Dean Faculty of Commerce, Dr Henry Kombo, said that collaboration in innovations and entrepreneurship would build capacity in the area.
The acting Deputy Vice-Chancellor in charge of Administration, Planning and Development, Prof. Richard Mulwa, said that the MoU between Egerton University and Malatya Turgut Ozal Univercity would enhance the University's standing in the world.
The acting Deputy Vice-Chancellor for Research & Extension, Prof. Bockline Bebe said the collaboration is in line with the Division's mission of forging partnerships with international stakeholders.
Present during the meeting was the Kenyan Ambassador to Turkey Amb. Lt Gen (Rtd) Johnson Ondieki, the Director, International Linkages & Career Services, Prof. Charles M'Erimba and Senior Internal Auditor Ms Anne Wangeci facilitated the meeting that brought together the institutions.
Also present were the Registrar Academic Affairs, Prof. Mwanarusi Saidi, acting Director Research & Extension, Prof. Nancy Mungai, University Librarian Ms Janegrace Kinyanjui, acting Registrar Human Capital and Administration, Ms Stella Kereto, Legal Officer Ms Janet Bii, Deputy Finance Officer, Mr Charles Wanjohi, Assistant Registrar Vice-Chancellor's Office Ms Lilian Njau and Communication and Marketing Manager Ms Agnes Mwangi.
---