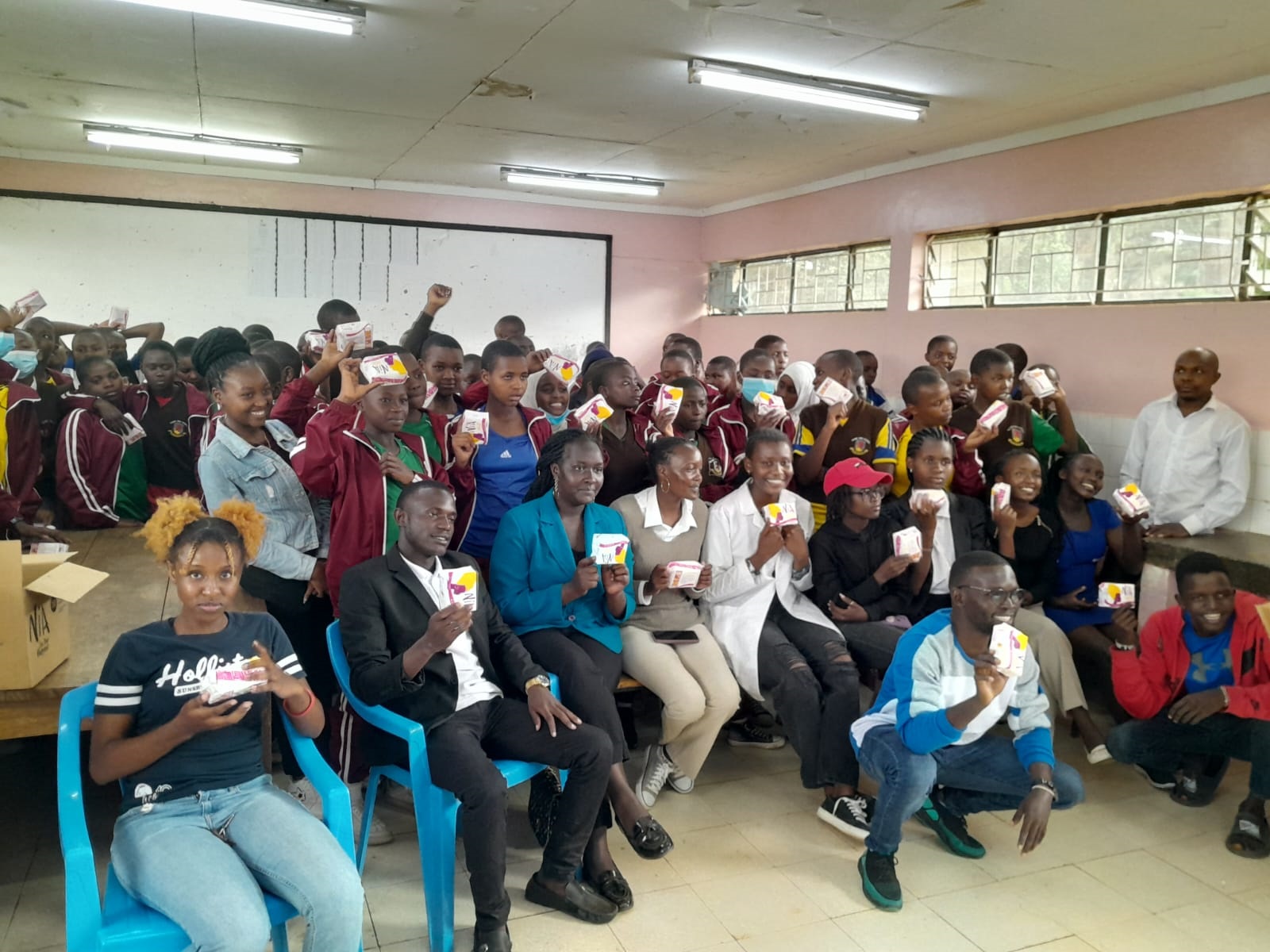 Egerton University Students Association Takes a Stand on World Menstrual Hygiene Day: Combating Stigma and Ensuring Access to Sanitary Towels
---
On the 28th of May each year, people worldwide gather to commemorate World Menstrual Hygiene Day. The day is dedicated to combating period stigma, ensuring access to menstrual products, and promoting awareness and education about menstruation.It is an opportunity to challenge the prevailing beliefs and taboos surrounding periods that persist in our society.
At Kilimo High School, Patrick Njuguna, the EUSA Director of Gender and Co-curricular Activities, took charge of organizing an event to distribute sanitary towels to students.
His passion for this cause is evident as he states, "By embracing this topic and creating awareness, we can shape a society that appreciates every gender and upholds the principles of gender equality. It is crucial for us to address the two-thirds gender rule and work towards a society that caters to the needs of all individuals."
Alarming statistics from AMREF Africa reveal that 65% of women and girls in Kenya cannot afford sanitary pads. This lack of access not only affects hygiene but also increases the risk of infections during menstruation.
The report also highlights the disheartening fact that only 50% of girls openly discuss menstruation at home, and a mere 12% feel comfortable receiving information from their mothers. These figures underscore the urgent need to address menstrual hygiene management and challenge the stigma that surrounds it.
Another report by Buckner, an NGO based in Dallas, sheds light on the dire situation. It states that 65% of females in Kenya are unable to afford sanitary pads, resulting in one million school-age girls missing an average of four school days per month.
To cope with their menstrual cycles, these girls resort to using alternative materials such as rags, blankets, or tissue paper. The report reveals the harsh reality faced by 42% of Kenyan schoolgirls who have never used sanitary pads.
Patrick Njuguna's commitment to this cause is further emphasized when he explains, "Our young people, regardless of their gender, should enjoy equal opportunities in our society. Period stigma is a pressing issue that is often ignored by our communities and leaders. This stigma leads many girls to miss school during their periods.
Access to sanitary products is just one aspect of the larger problem. We need to delve deeper and work diligently to bring about lasting change. Our immediate goal is to ensure that school-age girls do not miss out on education, and working-age women do not face limitations in their earning potential."
With determination and the support of various associations, Patrick who is inspired by Former US President Barack Obama encourages everyone to contribute to this voluntary effort.
He states, "I would like to appeal to the alumni association to join us in organizing and mobilizing funds for this drive. We can also actively participate in menstrual education and mentorship programs to empower young girls and women."
During an event held at Kilimo High School to mark World Menstrual Hygiene Day, Cynthia Wanini, the EUSA Chairperson, delivers a message to the government and stakeholders. "I extend my sincere appreciation to the organizations that have generously supported our program, ensuring that sanitary towels reach as many girls as possible.
Although progress may be slow, we remain hopeful that we will achieve our target of providing sanitary towels to every girl in our republic. I urge our legislators to consider the Sanitary Towels Provision Bill, which will put an end to period poverty and enhance the provision of free sanitary towels."
Patrick Njuguna's passion and the efforts of organizations like EUSA reflect a commitment to addressing the challenges surrounding menstrual hygiene and dismantling the stigma associated with periods.
Through education, access to menstrual products, and advocacy, they strive to create a society where menstruation is understood, respected, and supported by all.
---