Egerton University Showcases High-Quality Seeds at Kilimo Biashara Expo 2023 in KALRO,Kandara
---
As part of its long term strategy to reach out to all Counties to market University Academic programs and its products, Egerton University staff led by Directorate of Marketing and staff and students of different faculties, attended the Kilimo Biashara Expo 2023, held at KALRO Seeds Head Office in Thika, from March 23 to 24, 2023. The event brought together potential students, farmers, agribusiness suppliers, service providers and government agencies to showcase their academic programs, products and services to potential customers, investors and entrepreneurs.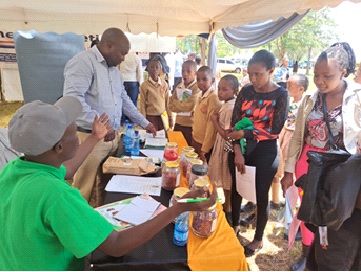 Egerton University showcased all its Diploma, Bachelors, Masters and PhD programs together with a range of high-quality seeds, including beans (Chelalang, Ciankui, Tasha, Light Tan), chickpeas, pigeon peas groundnuts, pearl millet and sorghum), other products like Egerton Yorghut, butter, fish finger lings, mechanization techniques among others.
Dr. John Nduko Associate Dean Faculty of Agriculture and Lecturer in the Food and Dairy Sciences Department led the team. He noted that the products generated a lot of interest among farmers and participants, who expressed a desire to engage with the university and apply for various programs, access their high-quality seeds and also know-how on production of high quality dairy products.
In addition to showcasing their products, Egerton University also took the opportunity to engage with farmers and participants to understand their needs and concerns. One of the key issues that emerged was the problem of moles that cause significant damage to crops and lower yields in Central Kenya. To address this problem, Egerton University's Marketing Resource Mobilization and Agro-Science Park Director, Prof. Paul Kimurto, provided information to farmers on how to control moles using Tephrosia vogelii a soft, woody branching herb or small tree with dense foliage, which when planted in the hedges or within farm or cultivated as a green manure crop to reduce moles infestation in the farm due to release of poisonous compounds mainly the rotenonoids. These has been used traditionally by many farmers in western Kenya and North Rift to kill moles. Farmers requested the university to organize conduct more research and a seminar and training session for farmers on how to deal with moles using Tephrosia.
Egerton University is already engaging farmers through contractual agreements in their seed multiplication program and farmers from Central Kenya indicated the the high demand for Egerton high-yielding seeds for various crops, and expressed the interest in engaging them to produce quality seeds for various agro-ecological zones in the counties. The University has so far participated in various career and trade fairs to market its programs and products and increase university visibility in several regions including South Nyanza, North Rift, Western Kenya, and Central Kenya.
Egerton University was represented by a team of experts from various departments, including Dr. John Nduko Associate Dean Faculty of Agriculture and Lecturer in the Food and Dairy Sciences Department, Academic Registrar's office (Mr. Samson Kiti) of the Admissions department, Mr. Korir of the Agro Science Park Seed unit, and Ms. Susan Mbanda-Obura of Marketing and Resource Mobilization. The university's participation in the Kilimo Biashara Expo 2023 has helped to raise awareness of their programs products and provided an opportunity to engage with farmers and other stakeholders in the agricultural sector.
By Susan Mbanda/ DMRM
Email:This email address is being protected from spambots. You need JavaScript enabled to view it.
---