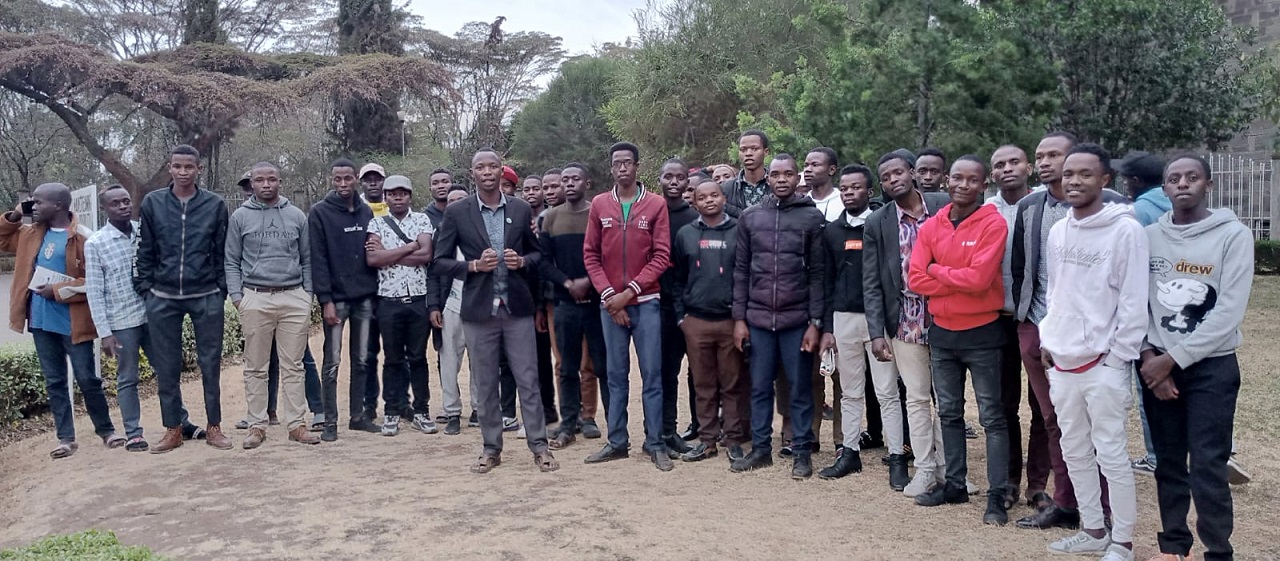 Egerton University Implements HIV Risk Reduction Sensitization Program For Male Students
---
NJORO, KENYA – April 3,2023
The Egerton University Dean of Students Office, under the leadership of Dr Japhet Muthamia, has lauded a program to sensitize students about Human Immuno-Deficiency Virus (HIV) on campus. The program aims to reduce HIV risk among male students at the university and promote HIV prevention and response initiatives.
This initiative is a collaborative effort between the Partnership for an HIV-Free Generation (HFG), the office of the Dean of Students, the Counseling Department, the Medical Department, and the Directorate of Marketing and Resource Mobilization.
The program, which was held over the course of five days in March 2023, saw the participation of 500 male students from all faculties on the Njoro campus. Male students were specifically targeted for the sensitization program because they are considered a high-risk population that requires more targeted and tailored HIV prevention and response initiatives.
The sessions were designed to provide a comprehensive approach to health and wellbeing by addressing seven thematic areas, which include HIV prevention, economic empowerment, sexual and reproductive health rights, gender-based violence (GBV) prevention and response, education support and protection interventions, non-communicable diseases including mental health, and TB prevention.
The sensitization program covered a range of topics related to HIV, including modes of transmission, methods of prevention, differentiated HIV testing services, treatment and care and support, and human rights and gender. Health services such as screening for sexually transmitted infections (STIs) and tuberculosis (TB) were also offered.
The program was led by a team of experts and facilitators from both the HFG and Egerton University. The team included Maureen and Margaret from the HFG, student counselors Wekesa Talia and Trizah Kucher from Egerton University, and health care workers from the Egerton University Medical Department, including Mercy, Immaculate, Joyce, and John.
Kipngetich Elisha, a HFG-trained peer educator and Egerton University student, mobilized and sensitized male students to the importance of HIV prevention and response. He was supported in his efforts by the Egerton University Students Association (EUSA) leaders, including Secretary-General Brian Bett.
The success of the HIV risk reduction sensitization sessions is a significant step in reducing new HIV infections in Egerton University and beyond. The program's impact is expected to extend beyond the university campus, as male students return to their families and communities with a greater understanding of the importance of HIV prevention and response. This initiative will create a generation of young people who are better equipped to tackle the health challenges of today and tomorrow.
HIV remains a significant public health challenge in Kenya and around the world. According to the Joint United Nations Programme on HIV/AIDS (UNAIDS), an estimated 1.6 million people were living with HIV in Kenya in 2020, with around 38,000 new infections reported in the same year.
Initiatives such as those implemented by the HFG and its partners play a critical role in reducing new HIV infections, improving access to treatment and care, and promoting health and wellbeing among young people. The HIV risk reduction sensitization sessions conducted among male students at Egerton University in March 2023 represent an important milestone in the ongoing fight against HIV in Kenya.
By Kurian Musa
Email:This email address is being protected from spambots. You need JavaScript enabled to view it.
---