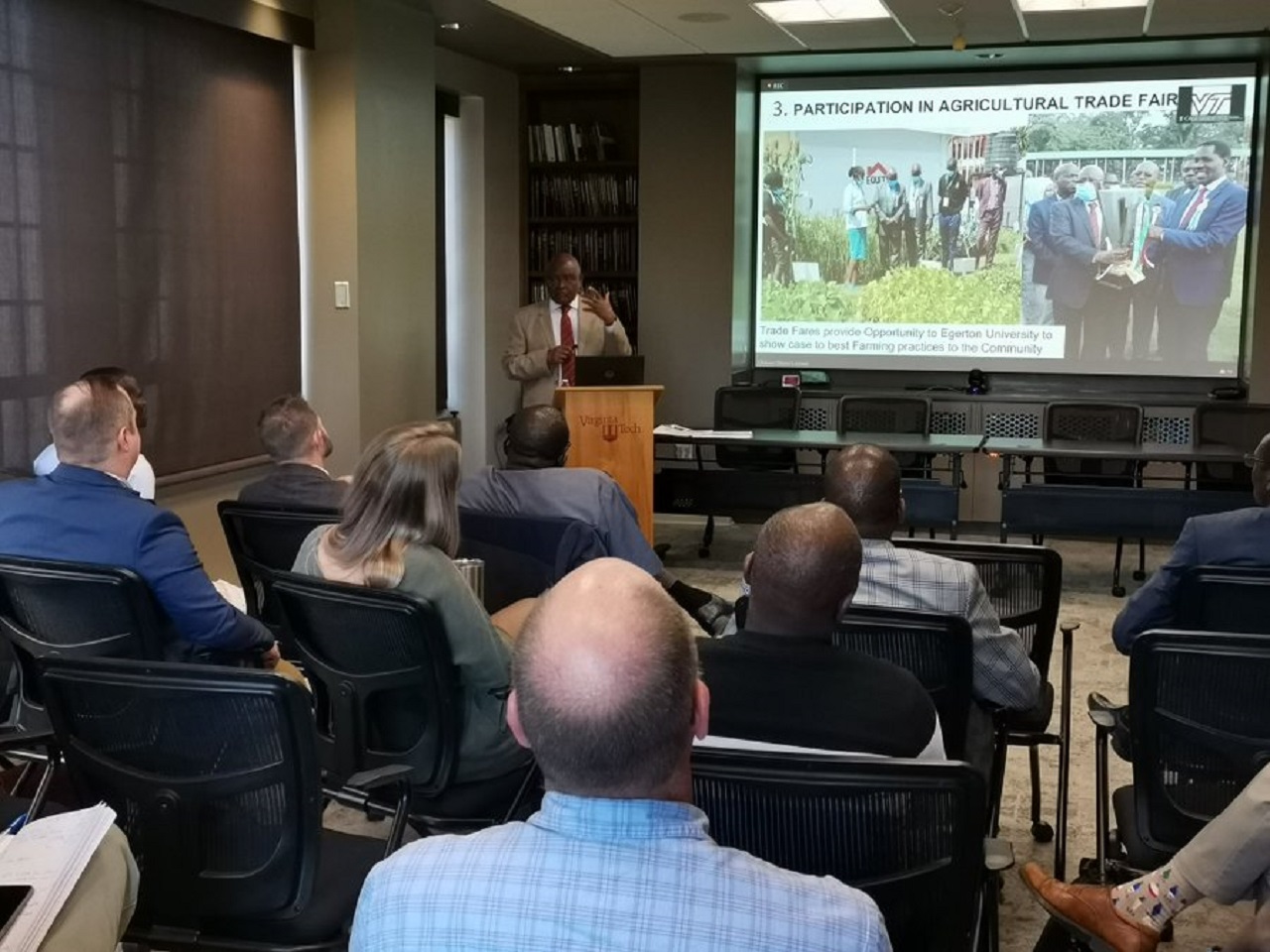 Egerton University enhances its collaboration with Virginia Tech University (USA)
---
Egerton University participated in the 2022 launch of the Global Agricultural Productivity (GAP) Report in Washington DC (USA) on 4th October 2022. The launch of the GAP report was followed by Virginia Tech University's College of Agriculture & Life Sciences (CALS) Symposium themed: Extension and Community Engaged Higher Education: Lessons from Kenya, Uganda, Senegal and the US on 6th October 2022. The Keynote Speaker during the event was Egerton's Vice-Chancellor Prof. Isaac Kibwage.
The VC Prof. Kibwage shared lessons learnt in Agricultural Extension and Outreach as practiced at Egerton University. The CALS Symposium resolved to deepen research and capacity building partnerships with efforts to jointly fundraise towards research and outreach in agriculture. Panelists at the Symposium held at Virginia Tech University were Prof. George Owuor (Director CESAAM), Dr Richard Edema (Director MarCCI, Makerere University), Dr Wellington Ekaya (Head of Capacity Development ILRI), and Dr Thomas Archibald (Virginia Tech University).
Egerton University and Virginia Tech University commenced their collaboration in October 2019 with the signing of a Memorandum of Understanding through which the two institutionsare collaborating on: Agriculture and Natural Resources; Agri-business;Fisheries, Marine and Ocean Research; Engineering and Information Technology;Leadership, Partnership and Resource Building for Institutional and NationalDevelopment; Place-based STEM Pedagogy; Agricultural Workforce Development(AWfD); and Information Communication Technology (ICT).
Story Written by: Agnes Mwangi
---