Egerton University Appoints Deputy Vice-Chancellor Academic Affairs
---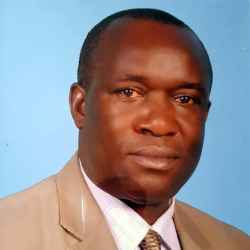 Egerton University Council appointed Professor Bernard O. Aduda as the new Deputy Vice-Chancellor Academic Affairs (AA) effective 1 February, 2022 for a period of five years through a competitive process that attracted a large number of applicants from several universities in Kenya. Prof. Aduda is a Professor of Physics of Materials, University of Nairobi since 2005. He holds a PhD in Materials Science from Imperial College London, University of London (UK) (1991).
Prof. Aduda is taking over the helm of Deputy Vice-Chancellor Academic Affairs at Egerton University with over 15 years of experience in university administration and over two and half decades of leadership in participatory action research, student and staff mentorship, consultancy and community service. Prof Aduda is the immediate former Principal of the College of Biological and Physical Sciences, Chiromo Campus, the University of Nairobi. He has held administrative positions in the same University being a member of the University Executive Board (2011 – February 2021).
Previously, Prof. Aduda served as the Associate Dean, Kenya Science Campus (2007-2011), and Chairman, Department of Physics (2003-2007), the University of Nairobi. Earlier he earned a Diploma from Imperial College (DIC), MSc Physics (University of Nairobi), B.Ed. (the University of Nairobi).
In addition to the responsibilities mentioned above, Prof. Aduda has served as a Member of Council of the Kenya Polytechnic University College (2009 – 2013); a member of Council of the National Council for Science and Technology (NCST) (2010 - 2013) and also as an Honorary Treasurer of the Network of the African Academy of Sciences (NASAC) (2013 -2019).
As an academic, he has supervised to completion 10 PhD and 17 MSc students and has published 63 papers in peer reviewed journals besides making over 40 presentations in and organizing many learned international and local conferences, edited one book, and published two monographs (modules) used in teaching undergraduate Physics units. He reviews for a number of international journals.
In addition to his academic prowess, Prof Aduda has been a Fellow of the Kenya National Academy of Sciences (FKNAS) and Editor-in-Chief from 2011 to date, and thus has chaired many committees, and edited the KNAS publications such as journals, conference proceedings and other popular publications.
As a resource person in evaluating programmes for the Commission for University Education (CUE), Prof. Aduda has contributed to improving the quality of education in Kenya. Besides, he has served as an external examiner in several local and regional universities, including at the Department of Physics, Egerton University.
As Prof. Aduda ascends the position of DVC AA, he brings in a wealth of experience in academic and staff management, student affairs and welfare which is expected to contribute to improved quality of education at Egerton University and thus contribute to its core mission of "Transforming Lives through Quality Education."
In recent years Prof. Aduda has widened his research and consultancy domain to span into regional networks where he is a founder member and served (2018-2020) as the Chief Coordinator of MSSEESA - a regional Eastern and Southern Africa Network for Scientists working on Materials Science and Solar Energy. Bernard has contributed and significantly influenced the postgraduate Physics syllabi offered in the Network participating Universities – University of Dar es Salaam, Makerere University, University of Nairobi and University of Zambia) and training of postgraduate students and technologists.
Prof. Aduda will be instrumental in the expanding and enhancing academic and research programs at Egerton University which include the African Centre of Excellence in Sustainable Agriculture and Agribusiness Management (CESAAM) funded by World Bank whose broad objective is to contribute to sustainable agricultural and agribusiness management through capacity development, research and technology transfer for enhanced food security; TAGDEV project funded by the Mastercard Foundation, whose aim is to Transform African Agricultural Universities and their graduates to better respond to developmental challenges through enhanced application of science, technology, business and innovation for rural agricultural transformation and Austria-Limnology postgraduate training. Other programs that are involved in student scholarship, research and training and will require attention of new DVC AA are; African Development Bank (AfDB) funded projects, the European Union, USAID, African Alliance Partnerships, (APP), Food and Agriculture Organization (FAO), UKAID, DANIDA, Canadian scholarships among others.
Prof. Aduda's strong linkages, networks and partnerships for training, capacity building, research and consultancy at national, regional and global levels will be highly valuable in his new assignment.
Prof. Aduda is expected to use this immense experience to improve the work environment for academic staff, expand student enrolment, boost resource mobilization through research grants, consultancies and support by Alumni, philanthropists and increase University visibility through the Directorate of Marketing and Resource Mobilization linking with community outreach initiatives by all Faculties in the Division of Academic Affairs (AA) which include Faculty of Agriculture, Faculty of Arts and Social Sciences, Faculty of Commerce, Faculty of Education and Community Development Studies, Faculty of Engineering and Technology, Faculty of Environment and Resources Development, Faculty of Health Sciences, Faculty of Law, Faculty of Science, Faculty of Veterinary Medicine and Surgery.
The University Council, Vice-Chancellor, University Management Board, staff and students wish Prof Bernard O. Aduda every success in his new position.
---