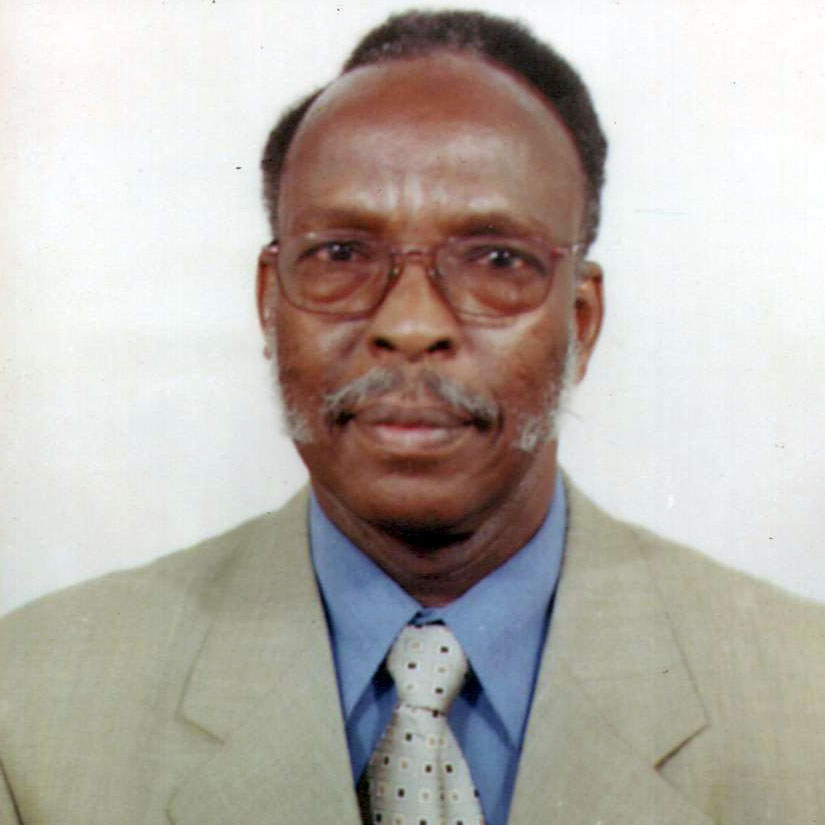 Dr Wilson Nguyo Mwarari
Founding Director of Tegemeo Institute of Agricultural Policy and Development
The Egerton University community mourns the passing of Dr Wilson Nguyo Mwarari and celebrates its connection to this distinguished Researcher, Scholar, Educator, and Academic Administrator. Dr Nguyo was born on the 10th of April 1941 in Kagumo, Nyeri County, Central Kenya. He was the founding Director of the Tegemeo Institute of Agricultural Policy and Development between 1992-2003, when the Institute established its headquarters in Nairobi. Earlier as a Researcher and Lecturer in the Department of Agricultural Economics and Agribusiness Management in the Faculty of Agriculture, he was the Project Team Leader where the project started in 1988.
During his tenure as the Founding Director, Dr Nguyo established key thematic areas of research that build the current world class Tegemeo Institute. These include monitoring, evaluation, and tracking, which involves monitoring changes at the household, commodity, sector/ sub-sector, and macroeconomic levels to inform the agriculture sector's interventions and policies. These are geared towards improved food security and poverty reduction; Policy research which is aimed at offering policy guidance by providing timely empirical information and feedback on government interventions and all other stakeholders in the agricultural sector; Outreach and Advocacy, which entails informing public and private sector stakeholders about promising policy and investment opportunities to promote rural incomes and food security in Kenya and Capacity Building which aims at building and strengthening the capacity of its researchers through short- and long-term training to sustain its quality policy research and analysis work and also, to enhance public sector policy research and analysis in Kenya. Tegemeo currently has strong national and international networks and partners, which include Michigan State University, Virginia Tech, Nanjing Agricultural University, among others. It also has strong collaboration with several funding agencies, including USAID, FORD Foundation, DFID, Danida, among others.
Dr Nguyo became the Registrar of Egerton College between 1986 to 1996. Before then, Dr Nguyo had joined Egerton College in July 1966 as a lecturer in Economics. Among his leadership roles include becoming the Chairman of the Department of Agricultural Economics and also then Director of Studies.
Under the leadership of Dr Nguyo as Registrar and Director, Egerton College later Egerton University experienced tremendous changes in the 1980s to 1990s. Dr Nguyo steered the institution through a major United States Agency for International Development (USAID)/Government of Kenya-sponsored expansion programme under the leadership of the late Vice-Chancellor Prof. Richard Musangi. The actual implementation of the programme was a joint venture between the Egerton authorities and the South East Consortium for International Development (SECID), USA. The programme entailed the development of various forms of infrastructure, counterpart training for Egerton staff, and the acquisition of equipment. Promoting research, teaching, and service, the programme constituted a big leap forward for Egerton. He also served as the Team Leader for Policy Analysis Matrix Project Kenya Market Development Programme (PAM/KMDP) – a USAID-funded collaborative project of Egerton University, University of Arizona and Stanford University.
Together with Prof. Musangi, Dr Nguyo was also the driving force behind the College's renewed efforts in the early 1980s for elevation to a University status under the Leadership of the late Vice-Chancellor Prof Richard Musangi. The push for introducing degree programmes at Egerton persuaded the Government to set up the Egerton College Upgrading Committee under the Ayany Committee in December 1983. The Committee was fully satisfied that the College was ready, in terms of both availability of land, (including its 3000 acres Ngongongeri farm and 1000 acre Tatoon Park) and physical and academic infrastructure, to start degree courses. The Government decided to first upgrade Egerton College to a constituent college of the University of Nairobi in 1986. Therefore, it was the University of Nairobi Senate that approved the degree programmes for Egerton University College in the following five areas: Animal Production, Agricultural Engineering, Agricultural Education, Agriculture and Home Economics, and Horticulture. The Government decided to first upgrade Egerton College to a constituent college of the University of Nairobi in 1986.
Dr Nguyo early educational life was grounded in Kagumo Secondary School and Kangaru High School in Nyeri County. He joined the University of East Africa, Makerere, Uganda and graduated in 1966 with a Bachelor of Science in Agriculture. He pursued further studies at the University of Idaho, USA, graduating in 1968 with a Master of Science in Agricultural Economics. In 1985 he attained a PhD in Agricultural Economics from the University of Kentucky, USA. Over the course of his career, Dr Nguyo served in various professional associations and societies, including as Vice-Chairman of the Eastern and Southern Africa Association of Agricultural Economists in 1995 and Chairman of the Eastern Africa Agricultural Economics Society from 1975 to 1981. He retired at the age of 70.
Dr Nguyo exhibited impeccable competence, clear vision, strictness, fairness, and unwavering dedication to service during his professional career at Egerton College and Egerton University. On his retirement, he has spent most of his time as a Consultant to several international organizations, Government Ministries and many other development institutions, the PCEA Church and the Anglican Church of Kenya. Dr Nguyo passed away on the 3rd of January 2022 at the age of 81. He is survived by his wife, children and grandchildren.