The Faculty's dedicated academic staff, with broad expertise in business management, strives to sustain academic excellence in research and teaching."

Dean, Faculty of Commerce
Developing Action-Oriented Knowledge for Professional Managers
---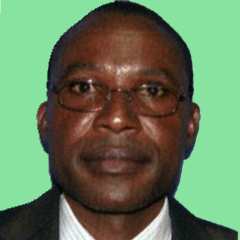 Dr Henry K. KomboThe Faculty of Commerce is home to undergraduate and graduate students preparing to lead the business world and foster entrepreneurial growth by completing our various academic programmes offered in both the traditional classroom setting and an online format. We offer programmes at Undergraduate, Master's, and Doctoral levels.
The Faculty's dedicated academic staff, with broad expertise in business management, strives to sustain academic excellence in research and teaching. The number of Faculty with Ph.D. qualifications has increased in recent years. In recent academic staff reviews, two members of the Faculty, Prof. Dinah Kipkebut and Prof. Fredrick Kalui, were promoted to the position of Associate Professor, and four members, Dr Robert Mugo, Dr Robert King'wara, Mr Alex Kubasu, and Mr Felix Obegi, were promoted to the position of Lecturer. This has enhanced the Faculty's capacity to run postgraduate programmes. Through University-organised training in online teaching, the Faculty has enhanced skills on the use of technology in teaching. This has improved online learning during the Covid-19 pandemic.
Our undergraduate and graduate programmes foster students' skills in Accounting, Entrepreneurship, Finance, Global Business Management, Human Resource Management, Information Systems, Marketing, Operations Management, Procurement and Supply Chain Management, Risk and Insurance Management, and Strategic Management. In recent years, the Faculty has experienced increased enrolment in the Ph.D. Business and Management Programme. In curriculum development, the Faculty continually repackages its programmes with input from employers regarding their priority skills and knowledge. In addition, we regularly offer career talks to enable our students to keep up with current trends in theory and practice. Students go through their respective curricula in partnership with the faculty and fellow students. It is our sincere hope that students become highly skilled professionals, capable of utilising the analytical skills obtained through their studies to make contributions in the business world.
The Faculty is striving to enhance exposure of students to trends in the industry by establishing collaborations and linkages with professional bodies, industry players, and other universities. The Faculty's students boast a national reputation for success at the annual Capital Markets Authority (CMA) Challenge, the Business Incubation University Challenge, and the Crucible National Students Marketing Competition. In both these competitions, our students have been placed in the top category in recent times.
---