Egerton University, located in Njoro, has taken a significant step in boosting research capabilities in crop molecular biology and biotechnology. The establishment of a crop molecular biology and biotechnology laboratory has provided the necessary infrastructure to enable the development of systems that improve crops through tissue culture and genetic transformation.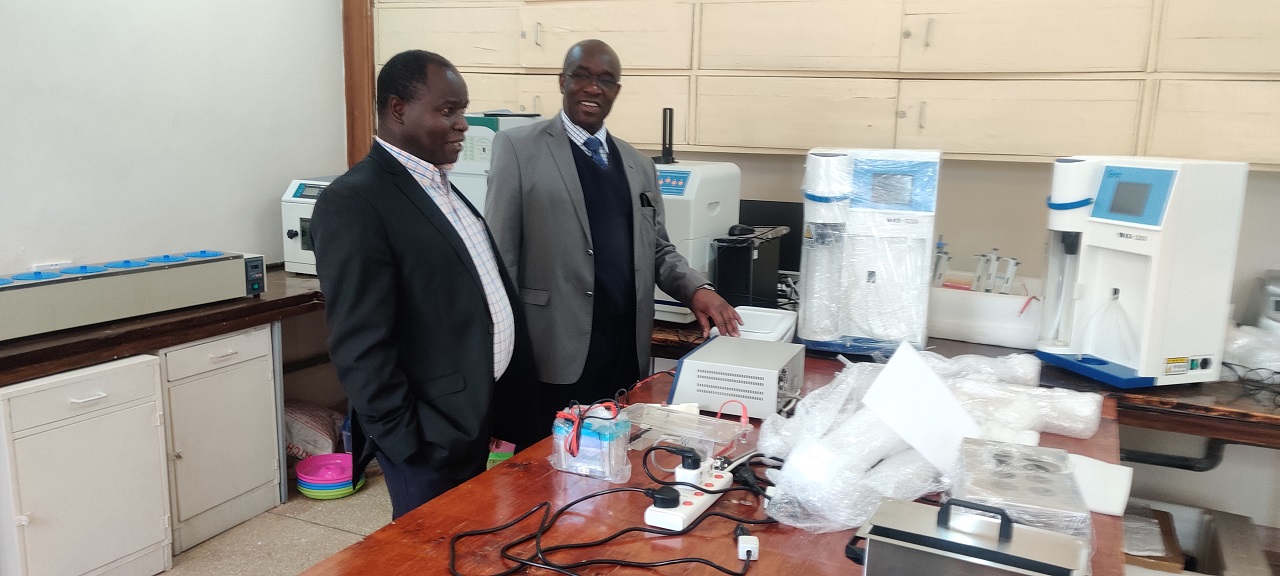 In the photo are from left Professor Richard Mulwa, acting Deputy Vice Chancellor (Administration, Planning & Development) and Professor Bernard O. Aduda the Deputy Vice Chancellor (Academic Affairs) during the commissioning of the Crop Molecular Biology and Biotechnology Laboratory at Main Campus in Njoro on 31 January 2023. The state-of-the-art Laboratory is making strides in improving crop research in Kenya.
The Ksh100 million Belt and Road Molecular Laboratory in the Faculty of Agriculture's Crops, Horticulture and Soils Department,has become a key player in crop research in the country. The state-of-the-art equipment available is used by staff, students, key partner institutions such as the Kenya Agricultural and Livestock Organization (KALRO) and other universities.
The cassava food products research currently being conducted at the Lab is a testament to its importance in advancing agricultural technology and whilst addressing food and nutrition security in Kenya. Furthermore, the Molecular Lab has successfully developed new chickpea varieties and other products, which are then distributed to farmers to improve their yields.The suitability and function of the cassava variety is being targeted in Nakuru County's dry areas such as Solai and the lower parts of Subukia. To assist with the transition to the new varieties, the Lab is currently training farmers in production to start cottage industries, which is sure to improve their financial status.
The Molecular Laboratory project, under the supervision of Professor Richard Mulwa, began in 2019, as a collaboration between Egerton University and Nanjing University in China, under the Belt and Road Global Chinese Project. The objective was to equip the Lab with state-of-the-art facilities, train staff and students, engage in staff and student exchange programs, and engage in joint research and publications.
Since its establishment, the Lab has hosted three short virtual training sessions, with another session planned for April this year. The Lab's capabilities have been steadily improving, with staff and students benefiting from collaborations with international molecular biology and biotechnology experts.
The establishment of the Crop Molecular Biology and Biotechnology Laboratory at Egerton University is a significant achievement, and its potential to impact crop production in the region is immense. With the support of international collaborations and the university's commitment to developing new technologies, the Lab will continue to make strides in advancing crop research in Kenya and beyond.
By Agnes Mwangi