Chancellor's Visitation to Nakuru Town Campus College
---
The Chancellor of Egerton University, Dr Narendra Raval, made his first visitation to Nakuru Town Campus College on Friday 3 September 2021.
During his visitation, he toured University Grounds at Kokeb, Faculty of Commerce West Campus, Faculty of Health Sciences offices, Makuti Hostel and Egerton Radio.
Dr Raval noted the financial challenges facing public universities and in particular Egerton University. However, he was optimistic that the University would soon come out of its financial crisis and be more self-sufficient by generating more income.
He welcomed first-year students admitted to the University and assured them that they are joining one of the best universities in the country.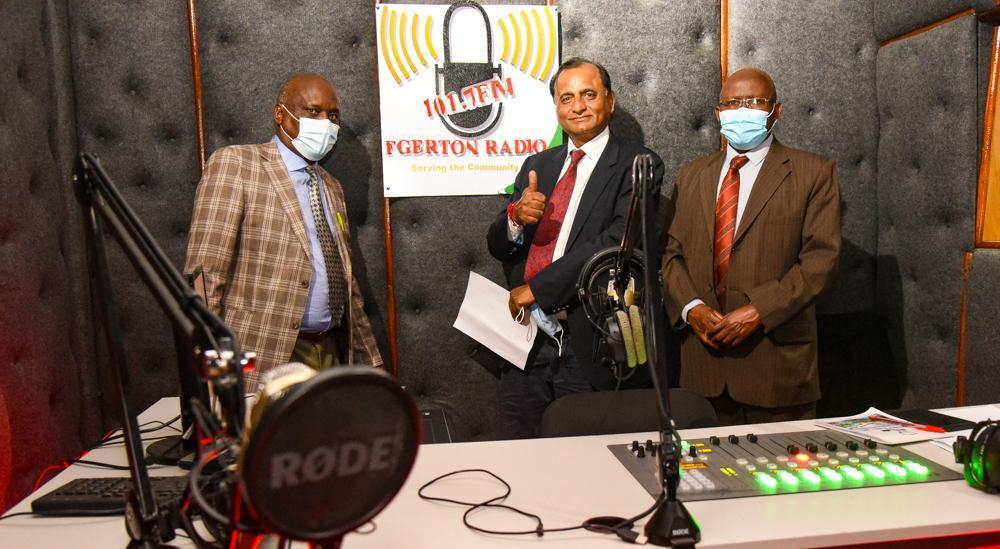 The Chancellor commended the Egerton University fraternity for peacefully engaging with each other and seeking alternative dispute resolution methods.
The University Council Chairman Amb. Dr Luka Hukka Wario, the acting Vice-Chancellor Professor Isaac Kibwage, and Nakuru Town Campus College Principal (NTCC) Professor Joshua Ogendo received the Chancellor during his visitation.
The University Management Board present were acting Deputy Vice-Chancellor, Administration, Planning and Development Professor Richard Mulwa, acting Deputy Vice-Chancellor Research & Extension Professor Bockline Bebe, Registrar Academic Affairs Professor Mwanarusi Saidi, University Librarian Ms Janegrace Kinyanjui, and Finance Officer Mr Moses Ouma.
The Director, Marketing and Resource Mobilization Prof. Paul Kimurto, the Dean Faculty of Commerce Dr Henry Kombo, Dean Faculty of Health Sciences Dr Brian Lishenga and Dean Faculty of Law Dr Ruth Aura, members of Egerton University Student Association and other members of staff were also present.
---