Egerton University Wins Inter-University Blitz Challenge
---
At the Dean of Students office, we are committed to serving all undergraduate and postgraduate students. We endeavour to assist our students to develop their physical, psychological, social, spiritual and leadership skills as part of our quality objectives.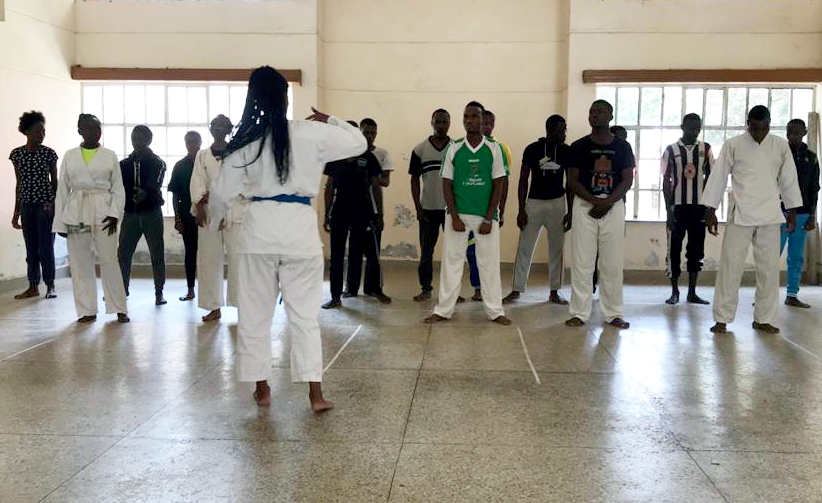 Ms Peninah Kilinge the captain of Egerton University's Women Karate Team, takes participants through a warm-up during the Inter-Year Championships on 20 Feb 2021The mandate of the Office of Dean of Students is to develop, nurture, and promote an enabling environment that supports and enhances both the academic pursuits and other development processes of students. The Office offers services that cater for the general welfare of students and serves as an advocate by assuring that the interests of students are served in strategic aspects of university operations. The Dean of Students coordinates counselling, registrations of clubs, public lecturers, financial aid, orientation of First Year students and recreational activities.
Some of the activities that have taken place since July 2020 include the following: training of class representatives; students psychological debriefing due to Covid-19 pandemic; Covid-19 sensitization; and inter year championship.
Training of Class Representatives
The class representatives training was a full day event done on 11 February 2021, with the following topics covered: leadership skills for Student Leaders; academic Advisory: Policies and procedures concerning Students, Covid-19 sensitisation for students; national cohesion and integration; conflict management; students: finance issues and challenges; and signs of Alcohol, Drug Substance abuse and referral among students
Students Psychological Debriefing on Covid-19
The aim of psychological debriefing exercise was to provide emotional and psychological support to students in light of the Covid-19 pandemic. The idea was to prevent the development of cases of post-traumatic stress disorder and other negative consequences among students.
Covid-19 Sensitization
A seven day sensitisation was done to encourage students to adhere to Ministry of Health guidelines on Covid-19 as well as guidelines developed by the University to direct their behaviours and actions while on campus.
Inter-Year Championships
Inter-Year Championships were held on 17-20 February 2021. Covid-19 protocols were in place at all the venues as each year-group rose to the occasion.
In the men's soccer, finalists Third- Years and Second-Years battled it out. The same scenario played out in the women's finals. Netball saw Second-Years triumph, while First-Years emerged victorious in the women's Badminton duel after Melissa Dorothy's outstanding performance. The chess event was dominated by the Third-Years.
Inter-University Blitz Challenge
The Egerton Chess Club has been exemplarily participating in virtual competitions and emerging top from a pool of over 20 universities in a championship dubbed Inter-University Blitz Challenge. This was due to the hard work of the Captain, Mr Eric Ngechu Gitau.
Dean of Students
---