The Growing Up and Liking It (GULI) club at Egerton University conducted a mentorship program at ST. Claire Girls Secondary School in Elburgon, Molo Constituency, Nakuru County on 19th February 2022 in collaboration with Psychiatric Disability Organization (DPO- Kenya) and Face of Nakuru Models 2023. ST. Claire is a privately owned Girls' boarding school with 589 students.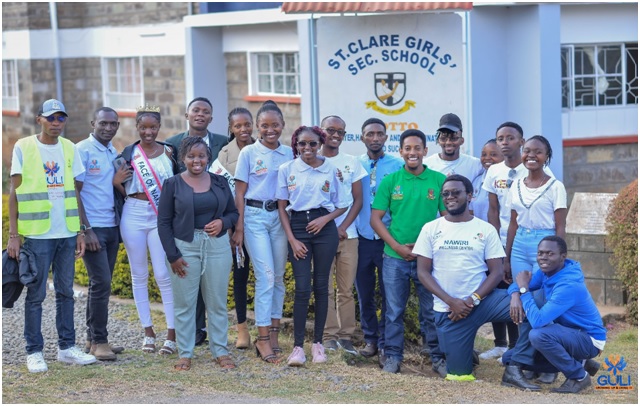 GULI Club is an association registered under the Dean of Students office founded by Ms. Gakii Mwithali, a 3rd-year student pursuing a BSc in Clinical Medicine and a champion of mental health advocacy in Kenya. The club's vision is to create a community where youths with psycho-social disabilities are understood, supported, and incorporated. Its long-term goal is to join hands in creating a well-informed society on mental health and to provide the youth with accessible mental health services. The core activities include mental health advocacy, sign language, environmental conservation, and peer support. The executive comprises five members led by Chairperson Mr. Calvin Omwega, Former EUSA Student leader. The club has 40 registered members across different faculties
The patron of the GULI club is Prof. Charles M' Erimba, an associate professor at Egerton University in the department of Biological Sciences. He is the Director of International linkages and career and the Coordinator Njoro river rehabilitation program and module coordinator (LIWM-714) Limnology and Wetland Ecosystems. The day's speakers were Gakii Mwithali, Calvin Omwega, Joy Muchiri, Mandla, Mwariri, and Nyamira from Egerton and three representatives from PDO Kenya. PDO is a Community-based mental health organization based in Nakuru, Kenya. It was formed by mental health lived experience experts and specialists. The organization is driven by a passion for promoting wellness and assisting those affected to recover dignity within their community. Their long-term goal is to see people with mental illness and psycho-social disabilities participating in every aspect of economic, social, political, and cultural life. The following topics were covered during the event;
Mental Health literacy
Emotional CPR
Reproductive Health
Leadership and concept of Success
The Girls were extremely happy and pleased with the mentorship. They were more than willing to welcome us in the future for similar training to help them in overcoming social and academic challenges. The staff members, led by Ms Ann, the Guidance and counselling chair lady, were also pleased to have us around to talk with the Girls. The event started at 10 am and ended at 4 pm.
Report compiled by,
Nyamira Enock Nyamorambo
MSc Natural Resources Management (Candidate)
Egerton University