---
PERSONAL PROFILE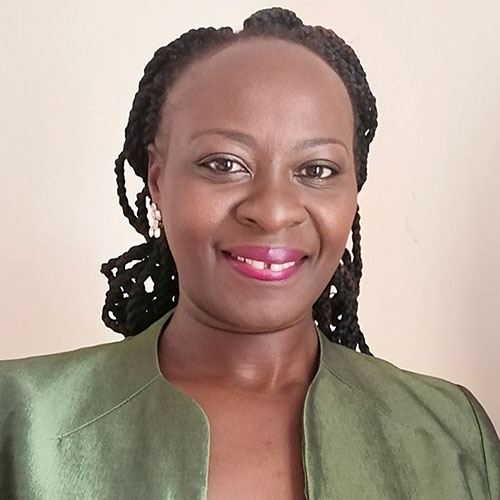 Esther is a Public Health Educator who works with the government, donors, community and other stakeholders through education, research, advocacy and dissemination of information to empower, motivate and develop skills, strengthening and informing the policy development to improve the quality of life and provide evidence based sustainable options.
She has vast experience in curriculum development, teaching, facilitation capacity building, policy development, research, management of health program, project management, and water and sanitation programs. She has experience working with various partners from the Public and Private Sector and donors including the Ministry of Health (Kenya), Ministry of Education, Egerton University, National Health Insurance Fund (Kenya), National AIDS Control Council (Kenya), USAID, GIZ, World Bank, ILO, FAO and Global Fund among others. Esther is a hardworking, self-driven, versatile and reliable person. She is a Commonwealth Scholar.
TECHNICAL SKILLS
Corporate governance
Management of pension scheme – Trustee
Project management
Proposal development
Research -qualitative and quantitative
Teaching and training
Curriculum development
Monitoring and evaluation
Workplace place wellness program implementation
Report writing
Workshop organization facilitation and rapporteuring,
Stakeholder management and networking
Conference planning and coordination
TRAINER
Curriculum development
Monitoring, evaluation and reporting
Project management
Research methods
HIV and AIDS epidemiology, policy and legal issues
Institutionalizing of workplace wellness programs
Health promotion
Behaviour change communication
Peer Education
Drug and substance abuse (DSA)
WORK EXPERIENCE
December 2015 – Present: World Bank Group: Joint Learning Network for Universal Health Coverage
Position: Coordinator, Kenya Country Core Group
March 2017 – Present: Egerton University
November 2013 –June 2015: Management Sciences for Health (MSH) – Leadership, Management & Sustainability (LMS) Project.
Position: Project Officer, Training
October 2012 – November 2013:
Consultant - Proposal development, Research, Rapporteur, Training and Workshop Facilitation
July 2011 –October 2012: Kenya HIV/AIDS Private Sector Business Council (KHBC)
Position - Head of Programme and Stakeholder Management
August 2009 –June 2011: Kenya HIV/AIDS Private Sector Business Council (KHBC)
Position: Head of Training and Business Development
January 2005- April 2006: - Namawanga Girls' High School
Position: Biology and Homescience Teacher
August 2000 - August 2003: Community Management & Training Services (CMTS. EA)
Position: Research Officer
September 1999 - April 2000: Kisumu Polytechnic
Position: Part-time Lecturer- Institutional Management Department
EDUCATIONAL BACKGROUND
2015–2017: Institute University College London (UCL) - Institute of Education (IOE), Masters of Arts in Education Health Promotion & International Development. Thesis -The Prioritization of Health Promotion in Training of Health Workers in Kenya: A Case Study of the Kenya Medical Training College
2011- 2012: Kenya Institute of Management, Diploma in Business Management - Project Management
2006 –2010: Jomo Kenyatta University of Agriculture & Technology (JKUAT), Masters of Science in Public Health. Thesis: Obstetric Care in Home Delivery among women in Lugari District, Western Province, Kenya http://ir.jkuat.ac.ke/handle/123456789/1346
2002: Dima College, SPSS (Statistical Package for Social Sciences) Use of the software for data storage, analysis and reporting
1995 – 1999: Moi University, Bachelors of Education in Homescience & Technology
1990 – 1993: St. Brigid's Girls' High School, Kenya Certificate of Secondary Education (KCSE)
1982- 1989: Kitale Academy, Kenya Certificate of Primary Education (KCPE)
AWARDS
Commonwealth Scholarship for Master's degree at University College London (UCL)- Institute of Education (IOE) in 2015
---